News
10 July 2007
SiGe appoints ex-Bell Labs research director as CTO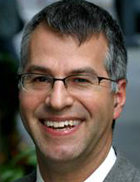 SiGe Semiconductor Inc of Methuen, MA, USA and Ottawa, Ontario, Canada, which supplies RFICs and front-end modules for wireless systems, has appointed Peter L. Gammel as chief technology officer (CTO). This follows SiGe's appointment, at the end of June, of Fred Shlapak (former president and CEO of Motorola's Semiconductor Products Sector) as chairman of the board.
Picture: Peter L. Gammel
Gammel will be responsible for generating technology and product roadmaps and identifying new application opportunities. He will also work closely with external partners, internal engineering and marketing groups to exploit the firm's capabilities in the wireless consumer electronics market segments.
"Gammel will play a leading role in the long-term direction of the corporation," says president and CEO Sohail Khan. "As an industry veteran with a proven track record, he will be a valuable representative at technical forums and engagements. His strong ties with academia will help us in our university collaboration as well as our efforts to attract and retain the top talent."
Gammel has 20 years of experience in new product and funding development, intellectual property investment, and team building and management. His technical expertise coverers single-electron devices, superconducting devices, MEMS and RF acoustic wave devices. Prior to joining SiGe, Gammel was VP engineering at a venture-backed start-up company. Previous positions include CTO of AdvanceNanotech Inc, CTO of Agere Systems' analog products business unit, and research director at Bell Laboratories (Alcatel-Lucent). He has a PhD in physics from Cornell University and B.Sc. in physics and mathematics from Massachusetts Institute of Technology (MIT). He also has more than 200 referred technical publications, as well as over 25 patents issued and in process.
See related items:
SiGe Semiconductor appoints ex-Motorola president Shlapak as chairman
Samsung joins SiGe Semiconductor in $20m funding round
SiGe appoints president and CEO
Visit: http://www.sige.com