News
14 June 2007
Anadigics PAs specified for Beceem WiMAX and Qualcomm CDMA reference designs; ships PAs for Huawei's WCDMA 3G handset
Anadigics' ZeroIC CDMA PAs compatible with Qualcomm CDMA2000 and 1xEVDO reference designs
Anadigics Inc of Warren, NJ, USA claims that its new ZeroIC CDMA power amplifiers (PAs) cut current drain (and therefore overall battery power requirements) by more than 75% compared to competitors' two-stage amplifiers, giving multimedia-rich handsets more talk time and data time.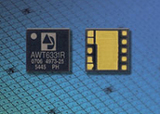 Using Anadigics' patented InGaP-Plus technology ( which combines bipolar and field-effect transistor devices on the same GaAs-based die) , ZeroIC products integrate an internal voltage regulator to reduce space and bill-of-materials cost. The 3.0mm x 3.0mm x 1.0mm profile suits the latest thin handsets.
ZeroIC products are also designed to be compatible with 3G reference designs based on the Qualcomm RTR6500 transceiver, and with second-generation Qualcomm Single-Chip (QSC) solutions, which integrate the CDMA2000 1X radio transceiver, baseband modem, power management, and multimedia engines into a single chip.
The ZeroIC family includes:
AWT6331 for 800MHz (US cellular, bandclass 0);
AWT6332 for 1900MHz Band (PCS, bandclasses 1 and 14);
AWT6334 for 900MHz (Japan cellular, bandclass 3);
AWT6335 for 2100MHz (IMT, bandclass 6);
AWT6336 for 1700MHz (AWS, bandclass 15).
Anadigics PAs specified for Beceem's mobile WiMAX chipset reference designs
Anadigics' 2.5-2.7GHz AWM6423 and 3.3-3.6GHz AWM6432 WiMAX PAs have been specified by Beceem Communications Inc of Santa Clara, CA, USA for reference designs using its BCS200 baseband and RF chipset, which supports all features of the mobile WiMAX Wave 2 Profile (enabling cell-phone makers to speed the development of WiMAX-enabled products). Anadigics' WiMAX PAs are fully compatible with the ETSI EN301-021 and IEEE 802.16 standards.
Using Anadigics' InGaP-Plus process technology, the AWM6423 and AWM6432 WiMAX PA modules integrate a step attenuator and output power detector as well as fully matched RF ports, reducing external component count, PCB space requirements, and development costs. The PAs support an error vector magnitude (EVM) of 4% for 16-QAM signals or 2.5% for 64-QAM signals.
"The operating efficiencies of Anadigics' WiMAX power amplifiers, in conjunction with the reduced power consumption achieved by Beceem's BCS200 Wave 2 chipset with smart antenna technology, provide compelling solutions for mobile WiMAX terminals," reckons Beceem's VP of marketing David Patterson.
"Beceem is making the first step into 4G for WiMAX products," says Ron Michels, Anadigics' senior VP and general manager of Broadband Products. "We look forward to continued cooperation with Beceem on future WiMAX designs."
Anadigics ships WCDMA PAs for Huawei's music-optimized U120 3G handset
Anadigics is shipping production volumes of its AWT6279 High-Efficiency-at-Low-Power (HELP3) wideband CDMA (WCDMA) power amplifiers to China's Huawei Technologies Co Ltd for its U120 music-optimized 3G mobile handset (a feature-rich, entry-level device positioned to drive development of the 3G market).
The U120 offers many versatile features and capabilities previously found only in high-end handsets (MP3, AAC, AAC+ and eAAC+ audio formats, streaming video, Bluetooth capabilities, and support for expandable memory with a MicroSD card slot).
The AWT6279 incorporates Anadigics' InGaP-Plus based HELP3 technology to provide low power consumption without the need for an external voltage regulator. The PA's self-contained 4mm x 4mm x 1.1mm surface-mount package incorporates matching networks optimized for output power, efficiency, and linearity in a 50 ohm system.
"We look forward to working closely with Huawei on the design of new handsets to aid in the expansion of the 3G market," says Dr Bami Bastani, Anadigics' president and CEO.
See related items:
Anadigics appoints broadband cable expert to board and launches single-chip RF amp for CATV
Anadigics ships PAs for Samsung's F500 video phone and SPH-m610 3G EVDO handset
Anadigics launches Linear EDGE PA module for 2.75G and 3G phones, PDAs, and wireless PC cards
Anadigics ships low-profile AWT6310R dual-band CDMA PA for LG's 3G and TV-capable phones
Anadigics continues 40% year-on-year growth and cuts losses after shedding fiber-optic subsidiary
Anadigics to build 6-inch GaAs fab in China
Visit: http://www.anadigics.com