News
20 June 2007
Cree introduces brighter blue XLamp XR-E LEDs; lights Croatian Riviera
LED solid-state lighting components maker Cree Inc of Durham, NC, USA has announced the commercial release of its new blue XLamp XR-E LEDs.
The new LEDs produce maximum luminous flux of 42 lumens at 350 mA, and are 70% brighter than Cree's previous blue power LEDs.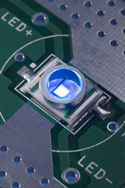 "The release of our award-winning XR-E LED in blue is the next step in our mission to be the first LED supplier to offer a full color range of lighting-class LEDs," said Norbert Hiller, Cree's vice president and general manager for lighting LEDs. "The new blue XR-E LEDs offer lighting designers increased flexibility for their designs. They can now choose to use fewer LEDs to lower the overall design cost, or use the same number of LEDs to achieve greater light output."
Picture: Cree's new blue XLamp XR-E LEDs are 70% brighter than the company's previous blue power LEDs.
*XLamp LEDs brighten Croatian Riviera
Cree has also announced that its XLamp XR-E LEDs are now being used to illuminate the Riviera waterfront in Croatia with warm-white light. Outdoor-lighting manufacturer Schréder custom-designed the streetlight.
Schréder's LED walkway luminaire incorporates 180 high-power, warm-white XR-E LEDs, each producing up to 124 lumens at 3,000 K.
"LEDs provide directional lighting, which requires extreme precision in orientation when they are used for urban lighting," said Luc Coppers, engineering manager of Uitrusting Schréder Belgium, member of the Schréder group. "This was the challenge Schréder's designers and engineers took on in creating unique fixtures that are both beautiful and functionally optimized for this waterfront promenade. The Cree XLamp XR-E is the only warm white power LED with the performance characteristics that meet the brightness, color stability and uniformity requirements of this installation. Together we have created a stunning evening social destination."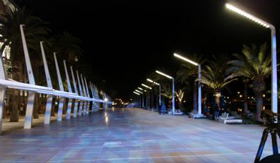 Picture: Schréder's streetlights incorporating Cree's XLamp XR-E LEDs, along the Croatian Riviera waterfront.
See related items:
Cree XLamp LEDs used in Beta LED's lighting fixtures
Cree ships brighter, lighting-class warm-white XLamp LEDs
Cree's XLamp XR-E LEDs chosen for solar-powered streetlights in China
Visit: http://www.cree.com/xlamp