News
22 June 2007
Fujitsu claims record with GaN HEMTS that will operate at over 200°C for 1m hours
Fujitsu Laboratories Ltd of Kawasaki, Japan has developed a new technology for manufacturing GaN-based HEMTs, which enables the transistors to operate at temperatures as high as 200°C for more than one million hours (around 114 years), under pinch-off conditions with a drain voltage of 50V.
Fujitsu will target the new GaN HEMT technology at the high-speed wireless communications market, for applications such as satellite communication (VSATs), cellular base stations, and WiMAX base stations.
Following long-term reliability testing, Fujitsu found that in GaN HEMTs a correlation exists between gate leakage current and reliability (Fig 1). This increase in gate leakage current depends on the quality of crystal and the structure of GaN HEMTs, says Fujitsu. This led the company to improve the crystal quality and optimize the layer structure to reduce the electric field in the GaN HEMT structure. Fujitsu used its proprietary n-type GaN cap layer (surface layer) to achieve the result (Fig 2).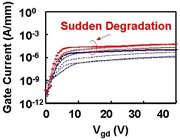 Figure 1: Correlation between gate leakage current and reliability.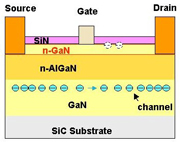 Figure 2: Structure of Fujitsu's new GaN HEMT, based on a SiC substrate.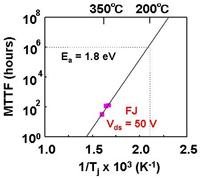 Figure 3: High-temperature pinch-off testing of the devices, operating at temperatures above 300°C, indicate long-term high reliability in excess of one million hours at channel temperatures of 200°C.
According to Fujitsu, this is a new record for long-term lifespan confirmed under pinch-off conditions with such a harsh testing factor as 50V drain; the company adds that the previous record was at 28V maximum.
See related items:
Toshiba launches X-band GaN HEMT for radar and medical applications
Cree and RFMD showcase GaN HEMTs at IEEE MTT-S 2007
Cree samples new GaN HEMTs for WiMAX and launches AWR PDK for high-power GaN MMIC process
Nitronex launches 100W GaN-on-Si HEMT power transistor for WiMAX
Cree samples GaN HEMTs that boost WiMAX PA efficiency by up to 50%
Kopin's GaN HEMTs qualified for production
KDDI and Fujitsu develop practical GaN HEMT-based high-efficiency amplifier for mobile WiMAX