News
19 June 2007
Intense launches Nd:YAG-replacement and eye-safe range-finding diode lasers
Intense Ltd of Glasgow, UK has extended its HPD Series 1100 product family of infrared (886-1000nm) broad-area, high-power, continuous wave (cw) multimode laser diodes with the launch at LASER 2007 in Munich, Germany of its HPD1110 1064nm, which simulates the 1064nm wavelength of Nd:YAG (neodymium-doped yttrium aluminium garnet) solid-state lasers (which normally require optical pumping by a flashlamp or laser diode).
The HPD1110 Series is based on patented Asymmetric Waveguide (AW) technology at the firm's Intense-HPD subsidiary in North Brunswick, NJ , USA, which is designed to increase the power and reliability of high-power laser diodes. Power degradation of high-power lasers is mainly due to the optical power density in the quantum well active region. Using a patented asymmetric epitaxial structure, the optical energy is spread into a large waveguide, reducing the power density in the quantum well and producing a more robust and efficient device. The HPD1110 Series hence provides the power, efficiency, and beam quality needed for industrial applications, including solid-state laser pumping, free-space communications, and illumination, Intense claims.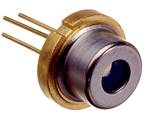 The HPD1110-1064 in particular provides stable operation at room temperature, is designed to operate at 1 Watt cw, and can be configured for short pulse mode. Higher powers are available on request.
Picture: Member of Intense's HPD 1100 product family.
Standard packages include 9MM, C, TO3, and HHL. Prices start at $600 in small quantities on 9MM packaging. Fiber pigtails and volume Bragg gratings are optional.
Intense has also announced the HPD Series 2400 of high-peak-power 1550nm eye-safe pulsed laser diodes, available in source sizes of 150µm and 380µm and designed to operate at pulse widths of less than 200ns, duty cycles to 0.1%.
The HPD Series 2400 lasers target military and commercial distance-measurement applications, including eye-safe laser range-finders, weapons simulators, and smart vehicle cruise control. The product family includes five configurations:
single diodes: HPD2410 @ 5W, HPD2424 @ 12W
vertical stacked arrays: HPD2410-2S @ 10W, HPD2424-2S @ 24W, HPD2424-4S @ 48W (the latter uses four chips).
Standard packages include 5.6MM, 9MM, TO18 coaxial, and TO5 twin lead. Fiber pigtails are optional. R0 detectors are available in some packages for range-finding applications. Prices start at $255 in single-unit quantities.
See related items:
Laser 2000 to distribute Intense's lasers in Europe
Cornes Dodwell to distribute Intense's laser products in Japan
Intense acquires High Power Devices Inc
Intense launches high-power laser diodes, bars, and stacks for industrial, medical and defense applications
Visit: http://www.intenseco.com