News
14 March 2007
Sharp to start volume production of 210mW blue-violet lasers for 6x recording on dual-layer Blu-ray and HD-DVDs
Tokyo-based Sharp Corp is to begin volume production in May of a blue-violet laser with a maximum power output of 210mW (in pulsed mode), enabling high-speed 6x recording on next-generation dual-layer Blu-ray Discs (BD) and high-density HD-DVDs. The peak emission wavelength is 406nm (typical). The new GH04P21A2G model follows Sharp last November starting production of the GH04020A2GE model blue-violet laser, which has a low power output of 20mW for read-only operation.
Sharp says that, as terrestrial digital broadcasting spreads throughout Japan, demand for LCD TVs and HD recorders that support full-specification 1080p HDTV is growing rapidly. As consumers are becoming more familiar with high-definition/resolution HD video, the desire to be able to record high-quality pictures from HD sources and store them on removable disc media is also growing rapidly. The market for recorders and PCs capable of recording on next-generation DVDs is expected to take off this year, and demand for blue laser diodes is projected to grow accordingly. Users are also expected to demand faster recording times, necessitating speeding up the write process for individual layers of the discs.
According to Sharp, the GH04P21A2G makes use of crystal growth technology developed for infrared, red, and blue-violet low-power laser diodes, but has a newly developed laser chip with a proprietary facet structure. The new device has what is claimed to be an industry-leading service life of 10,000 hours (for pulsed output of 210mW at 75°C). Threshold DC optical current is 40mA (typical). DC optical power output is 105mW (maximum), at which typical continuous-wave (CW) operating current is 110mA. Operating temperatures are 0-75°C (pulsed) and 0-70°C (CW). Samples (in a 5.6mm-diameter CAN package) will be available at the beginning of April for ¥50,000 (about $430).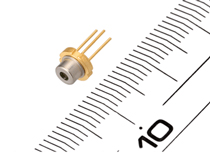 Picture: High-Power Blue-Violet Laser Diode (GH04P21A2G)
In addition to the GH04P21A2G model for optical storage applications, samples of a companion model, the GH04P21A2GE, will also be available for other general light-source applications (with volume production starting in June) .
Sharp's total production capacity at its Mihara fab for blue-violet lasers (including all models) started at 150,000 units per month last November and is scheduled to be 250,000 units per month in May. Sharp says it aims to build production capacity to enable a quick response to the needs of the market (up to 500,000 units per month by the end of 2007).
* Last month Japan's Nichia said it had developed a blue-violet laser with a power output of 320mW (pulsed), enabling 10x speed recording on dual-layer (and 2x recording on four-layer) Blu-ray Discs (BD) and high-density HD-DVDs. Estimated life-time was 1000 hours under stable conditions. Nichia aims to start mass production in first-half 2008.
See related items:
Sharp enters blue laser production
Nichia achieves 320mW pulsed operation of blue-violet laser diode
First nonpolar blue-violet laser diodes demonstrated by UCSB
Article: The wide blue yonder
Visit: