Sharp Corp of Tokyo, Japan is set to begin mass producing its GH04020A4G blue-violet semiconductor laser, in a 3.3mm diameter CAN package, in July 2007, says a report from Nikkei Business Publications' Tech On website.
According to the report, the laser offers an optical output of 10mW at ambient temperature and 10,000 hours of continuous operation. It will be used for next-generation optical disk players on notebook computers.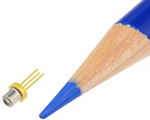 Sharp says it has solved the problem of increased internal temperature associated with miniture packages by incorporating a low electrical consumption laser chip in its new high-heat-dissipating CAN package.
Priced at 12,000 yen (around $98 or £50), sample shipments are due to
begin on 13 June 2007.
See related items:
Sharp to start volume production of 210mW blue-violet lasers for 6x recording on dual-layer Blu-ray and HD-DVDs
Sharp enters blue laser production
Visit Sharp: http://sharp-world.com
Visit Nikkei: Report