Osram Opto Semiconductors GmbH of Regensburg, Germany has refined its production and selection procedures for its warm-white and neutral-white Power TopLED, Advanced Power TopLED and DRAGON high-power LEDs to now offer narrower-tolerance binning on the color coordinates for different sorting grades.
Precisely defined color coordinates ensure that different LEDs within one white group reliably emit the same homogenous white light – with no visible color deviations. LEDs of a particular bin can be used in lighting applications without needing further checks. Even in critical applications such as diffused or tightly packed light sources, they meet stringent requirements in terms of homogeneity, Osram says. The white tone is within a range that typically corresponds to a three-step McAdams Ellipse.
The LEDs have an improved typical color rendering index (CRI) of more than 80 (important for workplace, residential and retail lighting). Also, up to now the high-power LEDs appeared to have a slightly different white tone when viewed from different angles. However, the color homogeneity of the LEDs has now been improved over the viewing angle, even with volume casting. It is therefore now easier and potentially more cost-effective to achieve high-quality homogenous illumination with natural color rendering even in demanding lighting situations (e.g. backlighting of diffused surfaces and linear array applications), says Osram.
Osram licenses white LED technology to PerkinElmer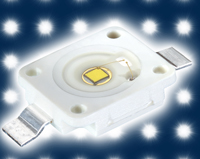 Osram has licensed a patent, held by subsidiary Osram Opto Semiconductors, to US-based PerkinElmer Inc, which supplies sensors and components for digital image displays and precision instruments for the health sector.
Picture: Osram's advanced white LED.
The patented technology enables white LEDs to be produced using blue-emitting chips based on indium gallium nitride (InGaN) and suitable phosphor converters.
Osram has previously signed license agreements for special products and applications with firms including Rohm, Samsung Electro-Mechanics, Citizen and Seoul Semiconductor.
Osram demos LED lighting with reference design drive circuitry
At this week's 2008 Strategies In Light conference and exhibition in Santa Clara, CA, USA, Osram Opto is showcasing new LED lighting solutions, including working demos of the new Diamond DRAGON LED and Advanced Power TOPLED technologies with market-ready reference design drive circuitry from Linear Technology, National Semiconductor Corp, and mSilica Inc (combining high level of functionality and facilitating low component count).
Osram says that its Diamond Dragon (launched in late November) is one of the world's brightest single-chip SMT LEDs (up to 250 lumens) with exceptionally low thermal resistance for g eneral, automotive and industrial lighting applications. It can be driven at 2A continuous or 4A pulsed, requiring a new class of LED drivers.
Working demos include Linear Technologies' LT3518, a full-featured LED driver with a 2.3A current, 45V internal switch that provides a 3000:1 True Color PWM dimming ratio, open LED protection, and a wide input voltage range, providing stable operation and suitable for automotive and general lighting applications.
National Semiconductor's PowerWise LM3401 PFET controller driver powers a second Diamond Dragon LED reference design. It runs at up to 100% of duty cycle, maximizing the number of LEDs driven off an input rail. The driver requires no output capacitor or compensation, reducing part count and solution cost.
Also demonstrated is a new two-dimensional backlight designed with 160 RGB Advanced Power TOPLEDs driven by mSilica's MSL3082 8-channel LED Driver on a companion LED load board. The driver incorporates Adaptive SourcePower technology to control DC-DC power supplies with optimal efficiency, complementing the Advanced Power TOPLED's performance capabilities for general lighting, LCD TV and monitor backlighting.
See related items:
White LED revenues to fall 15% by 2011, despite shipments doubling
Osram to launch 2A Diamond Dragon single-chip LED
Osram agrees laser and LED patent exchange with Toyoda Gosei; wins patent dispute against Kingbright
Seoul signs LED patent cross-license agreement with Osram; Nichia lawsuit dismissed in US
Osram settles patent dispute as Citizen licenses white LED IP
Osram's Advanced Power TopLEDs used in Audi R8's daytime running lights
Search: Osram White LEDs InGaN
Visit: www.osram-os.com