News
29 July 2008
Mimix introduces 10 to 16 GHz GaAs pHEMT SMT packaged receiver
Mimix Broadband Inc of Houston, Texas, USA has introduced the XR1015-QH, a 10 to 16 GHz GaAs pHEMT SMT packaged receiver that integrates a low noise amplifier (LNA), image reject mixer and LO buffer amplifier within a fully molded 4x4mm QFN package.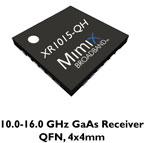 Suited for point-to-point radio, LMDS, SatCom and VSAT applications, the RoHS-compliant, packaged receiver has a noise figure of 2.5 dB and conversion gain of 12 dB. The image reject mixer eliminates the need for a bandpass filter after the LNA to remove thermal noise at the image frequency, says the firm.
The device is 100% RF and DC tested. Engineering samples are available immediately, with a lead time of 14 weeks for production quantities.
See related items:
Mimix raises $10m in fourth-round financing from GaAs Labs
Mimix launches 5.9-9.5GHz QFN-packaged linear PA with on-chip power detector
Mimix launches 2.8GHz 3.3V matched gain block amplifier in SOT-89 package
Mimix adds XL1010-QT GaAs MMIC LNA to range
Mimix launches 12-16GHz driver and PA pair with on-chip power detector
Mimix launches 32-42GHz GaAs MMIC sub-harmonic image reject mixer
Search: Mimix
Visit: www.mimixbroadband.com