News
2 October 2008
SolFocus first to complete ISFOC CPV installation
After installing 200kW of concentrator photovoltaic (CPV) systems at a power plant in Puertollano, Spain in July, Palo Alto Research Center spin-off SolFocus Inc of Mountain View, CA, USA has installed 300kW of CPV systems in Almoguera (making 500kW in total), becoming the first of three CPV system makers to complete its installations as part of a first, 1.7MW phase of the 3MW CPV project of Puertollano-based Instituto de Sistemas Fotovoltaicos de Concentración S. A. (ISFOC).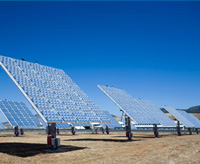 The project represents SolFocus' first commercial deployment. The two other CPV makers supplying systems for the first phase are Isofoton and Concentrix. Also, last November, ISFOC awarded contracts for the second phase (which is expected to have a capacity of 1.3MW) to Sol3g, Concentración Solar La Mancha, Emcore Corp and Arima Eco.
Picture: SolFocus CPV systems.
The 3MW ISFOC project was initiated in 2006 by the Castilla-La Mancha regional government's Department of Education and Science and the Institute of Solar Energy (IES) of Universidad Politécnica de Madrid (UPM), and is financed by Spain's Ministry of Education and Science. The plants have been created both as municipal power production facilities (to generate electricity for the local power grid) and as a proving ground for CPV technology (incorporating different concentrator technologies becoming available on the market from several firms). The project aims to demonstrate that CPV technology, with higher efficiency and the potential for cost reduction, is an attractive alternative to other solar technologies in key high solar resource regions worldwide.
ISFOC sought the most promising CPV technologies approaching the electrical generation market, and selected SolFocus for a contract in late 2006 (in advance of commercial production by the firm). SolFocus says that it has now entered the industrial, commercial and utility markets, having fine-tuned its design and technology development to emphasize reliability and overall system performance at the ISFOC installation. In September, the California Energy Commission (CEC) approved SolFocus' SF-1000P panel as the very first CPV product eligible to participate in the state of California's solar incentive program for commercial deployment, meaning the panels have met the CEC's safety and reliability standards..
ISFOC has performed initial testing and analysis, confirming that, in SolFocus' flagship product (the SF-1000P CPV panel), each panel is performing as designed at specified power levels (205W). SolFocus says that, in some cases, their panels are producing 10-15% more than their rated amount.
"While we are just now beginning to evaluate performance results from the installed systems, initial results look excellent and validate our belief that the high-efficiency capability of CPV technology is going to provide high energy yields," comments Dr Pedro Banda, ISFOC's director general. "SolFocus has done an excellent job of progressing its technology from R&D into commercially ready product," he adds.
"Working with ISFOC has allowed us to deploy our technology faster and in a more supportive environment than would have otherwise been possible," says SolFocus' president Mark Crowley. SolFocus expects its ISFOC installation to be connected to the grid in the next few weeks.
Video: SolFocus story, courtesy of SolFocus and YouTube.
See related items:
CPV Consortium launched to steer industry growth in concentrating photovoltaics
SolFocus first CPV systems maker to get CEC approval
SolFocus names ex-Lockheed Martin exec as president
SolFocus installs first solar array for 3MW Spanish CPV project
Visit: www.solfocus.com