News
24 September 2008
Intense appoints Berthold Schmidt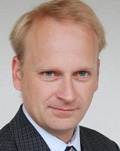 Intense Ltd of Glasgow, UK, a provider of single and multimode monolithic laser array products and high power laser diodes, has appointed Dr Berthold Schmidt as VP Global Product and Market Development, to spearhead the firm's drive into new products and market areas globally.
Picture: Dr Berthold Schmidt, VP Global Product and Market Development.
Over the last 10 years, Schmidt has held senior management positions at JDS Uniphase and Nortel Networks and joins Intense from Bookham (Switzerland) AG where he was on the executive board. Schmidt received his PhD from the Technical University at Munich, Germany and an MSc degree from the State University of New York. He also holds a Bachelor's degree in business administration from GSBA in Switzerland.
"Intense has experienced considerable growth over the past three years underpinned by its core Intense QWI technology and its wide product range serving the print, industrial, defense and medical markets," said Scott Christie, CEO. "As our technology continues to develop and we increase our rate of new product introductions, Berthold will bring great experience to the team, ensuring we focus all of our resources to maximize return for both our customers and our shareholders. We are delighted to have him on board."
"I'm very excited to join the Intense team at this important stage in the company's growth," added Schmidt. "Intense's robust diode laser technology combined with device integration and volume manufacturing capabilities, puts us in a unique position to offer high quality laser diodes and integrated solutions to our customers."
See related items:
Intense launches high-power, 905nm short-pulsed laser in rugged package
Intense launches high-power 808nm single-mode diodes for green laser pumping
Intense launches 793nm laser for thulium fiber pumps
Search: Intense Diode laser
Visit: www.intenseco.com