News
17 July 2009
South Korea's Gwangju joins Cree LED City program
Gwangju has become the first city in South Korea to join the LED City initiative, an international community of government and industry parties initiated by LED maker Cree Inc of Durham, NC, USA in December 2006 to evaluate, deploy and promote LED lighting for municipal infrastructure. Gwangju joins existing program members Raleigh, NC, Ann Arbor, MI, Austin, TX, Anchorage, AK, Indian Wells, CA, and Chapel Hill, NC in the USA; Toronto and Welland in Canada; Tianjin in China; and Torraca in Italy.
Gwangju (South Korea's center for the advancement of photonics, and the main city of South Korea's Honam region) is home to 180 companies and organizations working on the development and manufacture of optical communication components, light sources including LED technology, and optical precision devices. By focusing on optical communication components and LED industries, the city aims to be among the world's top five photonics clusters by 2010.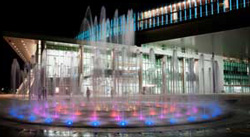 Picture: Kimdeajung Convention Center.
Already, in Gwangju, a wide variety of LED light fixtures illuminate the Kimdeajung Convention Center, World Photonics Expo 2009, KEMCO Honam Energy & Climate Change Center, and the Gwangju Metropolitan City underground parking lot. By replacing fixtures from parking indicator lights to streetlights, the city calculates that the LED lights should use about 30% less energy than existing fluorescent lamps, which could save the city up to 234,000kWh and reduce carbon emissions by as much as 8465 kg annually, it is reckoned.
Gwangju will highlight its LED lighting installations and participation in the LED City program when it hosts the World Photonics Expo from 9 October to 5 November.
"A tremendous amount of investment and effort has been put toward various photonics industry technologies locally, and we are proud to demonstrate the energy and maintenance cost savings that can be gained with LED lighting," says mayor Park Kwang-Tae. "Through our participation in the LED City program we hope to help other cities throughout the world adopt LED lighting and to draw attention to the high-quality LED lighting products produced here in South Korea," he adds.
"For the last eight years, we have worked to develop the highest-quality LED lights," says Dr EunYoung Yu, president of the Korea Photonics Technology Institute. "Our goal is to bring this highly energy-efficient and low-maintenance technology to neighborhoods, offices, schools and public places throughout South Korea."
See related items:
Chapel Hill joins Cree LED City program
California's Indian Wells joins LED City program
Welland joins LED City program
Visit: www.ledcity.org
Visit: www.gjcity.net