4 August 2015
Aixtron's first-half revenue and margin suppressed by delayed customer qualifications for AIX R6 MOCVD tool
For first-half 2015, deposition equipment maker Aixtron SE of Herzogenrath, near Aachen, Germany has reported revenue of €80.7m (down 10% year-on-year on €90.1m in first-half 2014). Of total revenue, 79% came from Asia, 11% from Europe, and 10% from the USA. Equipment revenue was €57.9m (72% of total revenue, with the remaining 28% coming from spare parts & services). Of equipment revenue, by end application, LEDs comprised just 24% (down from 75% in first-half 2014), silicon 32% (up from just 8%), power electronics 19% (up from 5%), and optoelectronics 14% (up from 7%).
In particular, second-quarter 2015 revenue was €40.4m, down by 13% on €46.2m a year ago but roughly levelling off after first-quarter 2015's €40.3m.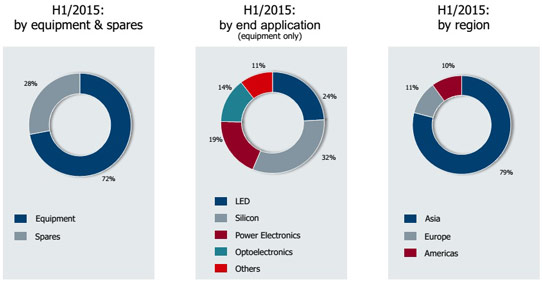 Demand for LED chips is growing due to an increasing penetration of LED technology in the lighting market and the demand of LEDs for displays, with high utilization rates at many LED producers. But despite that, orders and shipments in first-half 2015 remained slow.
"The weak revenue numbers are a clear reflection of not only the cautious investment behavior of our customers, but also of the AIX R6 qualification process, which has caused potential buyers to wait and see how the product performs other than buying the whole generation of equipment," says president & CEO Martin Goetzeler.
"The AIX R6 Showerhead tool, our latest generation of MOCVD equipment [launched last November for the mass production of LEDs based on gallium nitride (GaN)], is not only important to our overall financial performance in this year but also to the long-term positioning of Aixtron within the LED market," notes chief operating officer Dr Bernd Schulte. "We have had the AIX R6 production qualified at one LED manufacturer. Including this customer, we have secured orders from now eight different customers, up from seven in the previous quarter. We are also getting additional inbound enquiries and interests from customers," he adds. "However, we should not hide the fact, together with our major customers, that it has taken longer than we would have liked to get the AIX R6 to the production stage. Based on detailed programs regarding hardware and process, we are closely collaborating with our customers to support their qualification targets."
Due mainly to the AIX R6 MOCVD tool's ongoing production qualification process and the resulting actual and anticipated modification costs and inefficiencies, the cost of sales has risen by 17% from €31.5m in Q1/2015 to €36.8m in Q2. Gross margin hence fell to 9% (although, without additional production qualification and modification expenses, it would have improved slightly on first-quarter 2015's 22%). This contributed to first-half 2015 gross margin of 15% being down from first-half 2014's 25%.
Although less than €23.2m a year ago, Q2/2015 operating expenses were €21.5m, up on Q1's €17.6m. This was due to R&D spending being increased by 13% to €14.6m (reflecting order activities including the acquisition of PlasmaSi Inc at the beginning of April as well as work-around on the new-generation MOCVD equipment) plus non-repeating positive currency effects (of €2.7m in Q1). However, for first-half 2015, operating expenses were €39.1m, cut by 11% from €44m in first-half 2014.
Earnings before interest, tax, depreciation and amortization (EBITDA) worsened from -€6.4m in Q1/2015 to -€15.3m in Q2, due in particular to the additional qualification expenses for the AIX R6, higher R&D costs, and lower positive currency effects. First-half 2015 EBITDA was therefore -€21.8m, a sequential improvement on -€27.9m in second-half 2014 but down year-on-year from -€13.4m in first-half 2014.
However, operating cash flow has improved from negative outflows of -€15.3m a year ago and -€8.6m in Q1/2015 to +€33.7m in Q2, due largely to advanced payments from customers increasing by €15.5m. Free cash flow has improved from -€17.5m a year ago and -€12.1m in Q1 to -€0.1m in Q2, contributing to first-half 2015 free cash flow of -€12.3m being an improvement from -€31.3m in first-half 2014.
During the quarter, cash and cash equivalents (including bank deposits with a maturity of more than three months) fell by €7.8m from €263.2m to €255.4m, due mainly to the currency difference of the US$-based cash and cash equivalents as well as from the acquisition of PlasmaSi.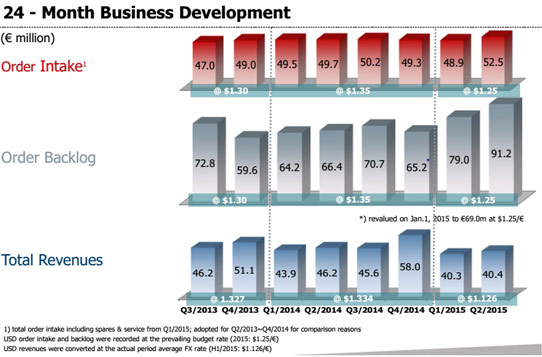 Equipment order intake (including spares and service) was €101.4m in first-half 2015, up 2% on last year's €99.2m. This was driven by Q2 orders of €52.5m, up 7% on Q1's €48.9m and up 6% on a year ago. Total equipment order backlog at the end of June was €91.2m, up 15% on €79m at the end of first-quarter 2015 and up 37% on €66.4m a year previously (and the highest since 2012). "This gives us good visibility to our revenues for the later part of the year, as the majority of the backlog is shippable in 2015," says Goetzeler.
"We continue to make good progress in the strengthening of our product and technology portfolio," says Goetzeler. "In the field of OLEDs, we are seeing strong interest from customers regarding the technology of the recently acquired PlasmaSi," he adds. Integration of PlasmaSi Inc of Fremont, CA, USA - which provides low-temperature silicon nitride plasma-enhanced chemical vapor deposition (PECVD) systems for the encapsulation of organic thin-films in organic light-emitting diodes (OLEDs) - is going well, with measurable market and customer synergies in OLED technology expected shortly. "First test runs of our Gen8 demonstrator for the production of large-area OLEDs are positive," says Goetzeler. Aixtron forecasts first orders for the Optacap OLED encapsulation technology later this year.
"In the LED space, our business environment for the second half is developing as expected, allowing for the announced growth in shipments compared to the first half of this year," says Goetzeler. "Besides the LED-driven demand, we are expecting strong contributions from our other product groups such as power and memory and logic, both of which will show a year-on-year increase growth in 2015. We are also seeing increased interest for our planetary reactor MOCVD platform for LED, laser and telecommunications applications."
Supported by the increased order backlog, Aixtron's management reiterates its February revenue forecast of €220-250m for full-year 2015 (based on existing $/€ exchange rates), up on €193.8m in 2014. This also includes expected shipments of AIX R6 MOCVD tools, which still depend on successfully reaching individually agreed milestones within ongoing customer-specific production qualification processes. Management continues to expect to return to EBITDA break-even in second-half 2015.
Aixtron improves earnings despite revenue drop while new MOCVD system undergoes qualification
Aixtron acquires PECVD-based OLED thin-film encapsulation firm PlasmaSi
Aixtron's revenue rebounds by 27% in Q4, driving 6% growth in full-year 2014
Aixtron continues reorganization in 2015
Aixtron launches AIX R6 next-generation MOCVD system
Aixtron's losses worsen in Q3, driven by product launch, sales mix and upfront investments
China's San'an expands by ordering 50 Aixtron MOCVD systems
Aixtron's orders rise for fifth consecutive quarter
Aixtron outlines 5-Point Program to return to sustainable profitability
Tags: Aixtron MOCVD PECVD OLEDs
Visit: www.aixtron.com