6 August 2015
Veeco enters profit, as EPIK system revenue recognition aids 33% growth in Q2
For second-quarter 2015, epitaxial deposition and process equipment maker Veeco Instruments Inc of Plainview, NY, USA has reported revenue of $131.4m (the highest quarterly revenue since 2012), up 33.7% on $98.3m last quarter and up 38% on $95.1m a year ago. This includes results from Solid State Equipment Holdings LLC (SSEC) of Horsham, PA, USA (now Veeco Precision Surface Processing, i.e. PSP) since its acquisition on 4 December.
The Advanced Packaging, MEMS & RF segment (mainly PSP) contributed 11% of total revenue (relatively level on last quarter). "We are cross-selling into our other market segment, and overall PSP sales were up nearly 28%," notes chief financial officer Sam Maheshwari. "Our Precision Surface Processing business is performing exceptionally well and demand for these products remains healthy," adds chairman & CEO John R. Peeler. "Our differentiated and highly flexible process technology is well established in the broader MEMS market and gaining momentum in the Advanced Packaging space." 
The Scientific & Industrial segment comprised 14% of total revenue (level with Q1). Data Storage segment revenue has bounced back, more than doubling sequentially (rising from 7% of total revenue to 13%).
The Lighting, Display & Power Electronics segment (primarily MOCVD) contributed 62% of total revenue. In particular, Veeco recognized revenue on its first Propel gallium nitride (GaN) power electronics metal-organic chemical vapor deposition (MOCVD) system just six months after its launch last November.
"Our top-line growth has been fueled by the rapid adoption of our TurboDisc EPIK700 MOCVD system [for GaN LED production, launched last September]," says chairman & CEO John R. Peeler. "We have now successfully demonstrated the tool's capabilities across multiple customers, which enabled us to begin recognizing revenue upon shipment towards the end of the second quarter," he adds.
"Revenue levels were highly dependent on the timing of the transition of the EPIK product to our standard revenue-upon-shipment model," notes Maheshwari. "We achieved this significant milestone in late May, which was in line with our expectation," he adds. "As a result [in transitioning the new system to a bifurcated revenue model], EPIK tools which shipped after the transition date were included in Q2 revenue; EPIK tools that shipped prior to this transition date will remain in deferred revenue [totalling $55m at the end of Q2] until we receive final customer acceptance."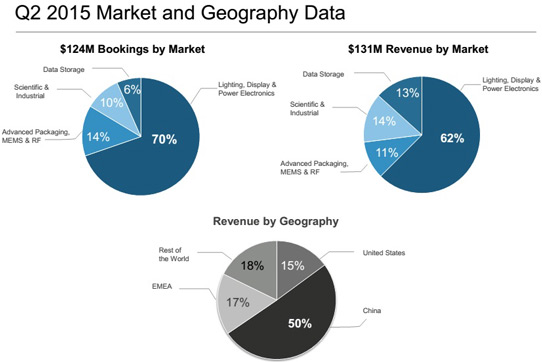 On a geographic basis, China rose from 45% of total revenue in Q1 to 50%, driven primarily by MOCVD sales to leading LED makers. The remaining 50% of revenue was spread fairly evenly across the USA, EMEA (Europe, the Middle East & Africa) and Rest of the World (including Taiwan, Japan and Korea).
The adverse impact of initial low-margin EPIK revenue was more than offset by the positive effect of higher business volumes combined with a favorable product mix, so – on a non-GAAP basis – gross margin has risen further, from 32.9% a year ago and 37.7% last quarter to 37.9% (above the midpoint of the 36-39% guidance range).
Also, due to the higher business volumes combined with annual merit increases, operating expenses rose from $37.1m last quarter to $40m.
Operating income was $9.75m (compared with a loss of $0.1m last quarter). So, after depreciation of $3m, adjusted earnings before interest, taxes, depreciation and amortization (EBITDA) was $12.75m, up from $2.7m last quarter and compared with a loss of $4.1m a year ago.
Compared with a net loss of $6.1m ($0.16 per diluted share) a year ago and $0.5m ($0.01 per diluted share) last quarter, Veeco has achieved net income of $8.4m ($0.20 per diluted share, above the midpoint of the guidance range).
Cash flow from operations has doubled from $4m in Q1 to $8m. During the quarter, cash balance rose slightly from $393m to $396m.
"These results illustrate the operational leverage in our model, and we will continue to focus on driving sustainable profitability," says Maheshwari.
Order bookings were $124m, up about 20% both on last quarter's $102m and $104m a year ago, but lower than the expected $140m due to macro-economic conditions.
Lighting, Display and Power Electronics orders (primarily MOCVD) rose from 59% of total bookings in Q1 to about 70% in Q2, but they were partially impacted by volatility in the China market. Certain LED makers experienced challenges in accessing capital through the credit markets. "Veeco requires a meaningful cash deposit at the time of booking, which helps to lower our financial risks," says Maheshwari. "Based on discussions with these customers, additional MOCVD capacity is still required and we expect these delayed investments to occur over the next 6-9 months."
Advanced Packaging, MEMS & RF bookings comprised 14% of total orders, growing for a fifth consecutive quarter (enhanced by the addition of the PSP business). Scientific & Industrial bookings fell from 13% of total orders in Q1 to 10%, while Data Storage bookings fell from 13% to 6%. During the quarter, total order backlog fell from $289m to $279m.
For third-quarter 2015, Veeco expects revenue of $135-160m, driven largely by strong demand for EPIK products. "This latest-generation product offers lower cost of ownership for our customers and improved margin contribution for Veeco, as compared with prior-generation tools," says Peeler. Gross margin should be 37.5-39.5%. Operating expenses of $40-42m are targeted. Adjusted EBITDA is expected to be $14-24m. Net income should rise to $9-17m ($0.22-0.40 per diluted share).
Importantly, the margin on EPIK tools currently booking is higher than tools shipped in first-half 2015. "We have made excellent progress on our product cost-reduction plans, which we are implementing through the end of this year," says Maheshwari.  "We are driving gross margin improvements and target achieving 40% or higher towards the end of this year."
Veeco reiterates its view that full-year 2015 revenue growth will be greater than 35% (with second-half revenue higher than the first half, boosted by most of the $55m deferred revenue being recognized by year-end). EBITDA is expected to grow faster than revenue.
"We expect LED lighting to drive orders in the near-term and we have indication for additional investments through early 2016," says Maheshwari. "Depending upon the timing of these investments, we would expect second-half bookings to be flat to up compared to the first half of this year."
Veeco ships 50th EPIK 700 GaN MOCVD reactor in less than a year
Veeco's Q4 MOCVD revenue up 55% year-on-year while orders almost triple
Veeco launches MOCVD platform for development of GaN power electronic devices
Veeco launches 31x4"/12x6"/6x8"-wafer EPIK700 GaN MOCVD system
Veeco cuts losses, but growth in MOCVD revenue offset by MBE and Data Storage
Veeco's first-half 2014 MOCVD orders up 80% year-on-year
Tags: Veeco MOCVD MBE ALD Wet processing
Visit: www.veeco.com