13 May 2015
Veeco's Q1 shipments include $25m of deferred revenue for new EPIK MOCVD system
For first-quarter 2015, epitaxial deposition and process equipment maker Veeco Instruments Inc of Plainview, NY, USA has reported revenue of $98.3m, down 13% on $113.6m last quarter but up 8.3% on $90.8m a year ago (and ahead of the midpoint of the $92-100m guidance). This includes results from Solid State Equipment Holdings LLC (SSEC) of Horsham, PA, USA (now Veeco Precision Surface Processing, i.e. PSP) since its acquisition for $150m on 4 December, including $7.9m from 3 weeks of revenue in Q4/2014.
Starting this quarter, Veeco is segmenting bookings and revenue by the following four markets: Lighting, Display & Power Electronics; Advanced Packaging, MEMS (micro-electro-mechanical systems) & RF; Scientific & Industrial; and Data Storage. "We cross-sell our products into multiple markets and believe that these end markets will give a better visibility of our business," says chief financial officer Shubham Maheshwari.
Hence, of total revenue, the Advanced Packaging, MEMS & RF segment (mainly PSP) contributed 13% (up from last quarter's $7.9m to $13.2m, compared with just $0.8m a year ago).
Lighting, Display & Power Electronics markets (primarily MOCVD) contributed 66% of total revenue ($64.3m, down 18% on $78.4m last quarter but still up slightly on $63.9m a year ago). However, at the beginning of this year Veeco began shipping its new TurboDisc EPIK700 metal-organic chemical vapor deposition (MOCVD) systems, including a number of which that were not recognized as revenue in Q1 (as per Veeco's usual accounting practice for new products), so actual shipments were higher than revenue. This resulted in an increase of $25m in deferred revenue, which will largely be recognized only during the remainder of 2015 as final sign-offs are received from customers.
Scientific & Industrial contributed 14% of total revenue (up from $8.5m a year ago and $11.7m last quarter to $13.6m). Data Storage contributed 7% of total revenue (more than halving from $17.7m a year ago and $15.5m last quarter to $7.2m). "The Data Storage number is much smaller than previously disclosed under the Data Storage segment, as a meaningful amount for our Ion Beam Etch and Ion Beam Deposition products are actually sold to markets like scientific, industrial, MEMS or RF," notes Maheshwari.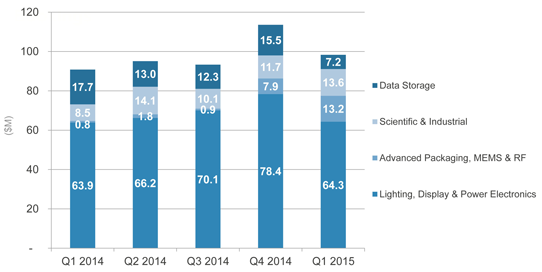 Picture: Trend in Veeco's revenue by market segment.
By region, 28% of revenue came from customers in the USA, 9% from EMEA (Europe, the Middle East & Africa), 18% from the rest of the world (including Taiwan, Japan and Korea), and 45% from China (largely related to MOCVD sales). Veeco continues to see strong demand from MOCVD customers in China that are either facing capacity constraints or anxious to monetize the government subsidies, says Maheshwari.
Gross margin was 37.7%, down from 38.5% last quarter (due to the significantly lower business volume, offsetting a positive change in product mix). However, this is roughly level with 37.8% a year ago and at the high end of the 36-38% guidance.
Operating expenses (OpEx) fell from $38.1m last quarter to $37.1m, despite absorbing a full quarter of expenses from PSP. "We are clearly realizing the full benefit from expense reduction activities announced mid-year in 2014, which have now been fully implemented," says Maheshwari. R&D expenses fell by $1.2m (from $19.2m to $18m) due to the receipt of certain engineering credits, as well as the delay of certain project material-related expenses into Q2.
The better-than-expected gross margin, combined with efficient spending controls and a lower-than-expected tax provision, contributed to net loss being cut from $2.4m ($0.06 per diluted share) a year ago to just $0.5m ($0.01 per diluted share, beating the top end of the $0.13-0.07 guidance by $0.06). Operating loss was $0.1m. So, after depreciation of $2.8m, adjusted EBITDA was $2.7m, down on $8.3m last quarter but up from $0.1m a year ago and exceeding the guidance range of $0-2m.  Cash flow from operations was $4m. During the quarter, cash and investments rose slightly from $391.4m to $393m.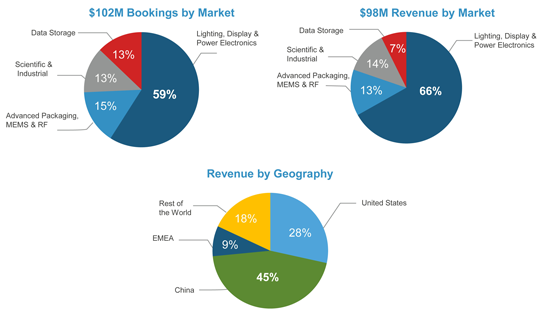 Picture: Veeco's Q1/2015 revenue by market segment and geographic area, and orders by market segment.
Following very strong orders of $196m in Q4/2014, first-quarter 2015 bookings were $102m, near the high end of guidance. Of this, the Lighting, Display & Power Electronics markets (primarily MOCVD) comprised 59%, Advanced Packaging, MEMS & RF 15%, Data Storage 13%, and Scientific & Industrial 13%. Total book-to-revenue ratio for Q1 was slightly above 1. During the quarter, total order backlog rose slightly from $287m to $289m.
"We anticipate future growth from the Lighting, Display & Power Electronics market, as well as from the Advanced Packaging, MEMS & RF markets," says Maheshwari.
"Our new Veeco Precision Surface Processing or PSP business is off to a great start, and will help drive increased sales and profitability in 2015," believes chairman & CEO John R. Peeler. Growth in smartphones, wearables and other mobile devices are driving activity in MEMS wireless devices and advanced packaging.
"China is starting to invest big in MEMS. We received orders in the first quarter for a metal lift-off application. We're also seeing significant activity in the USA and Europe," he adds. "Veeco sales team is actively engaged to drive new account penetration, particularly in regions like Korea and Japan where SSEC had limited presence. Taiwanese foundries are also investing in MEMS and we had an important strategic order from an Asian foundry in Q1," Peeler continues. "In through-silicon via applications, we're seeing good opportunities and momentum in customer demos, and overall PSP's orders are very healthy, with a book-to-bill ratio consistently over 1."
Demand for MOCVD products continues to strengthen and there were no order cancellations in Q1. "We've seen [LED industry] utilization rates overall tick-up in almost all regions over the last quarter," says Peeler. "We're at 90% or so in China, kind of close to that in Taiwan - probably up three to five percentage points in each of those countries. Korea has come up by a similar amount (probably 85%), and USA and Europe are probably close to 90%," he adds.
Specifically, for the new TurboDisc EPIK700 MOCVD system, all beta customers have qualified the tool and placed follow-on volume production orders, joined by additional customers in multiple countries. "Customers have quickly moved from our K465i and MaxBright platforms to the EPIK700, and nearly all shipments to LED customers are now EPIKs," says Peeler.
"We expect to shift to a revenue-on-shipment operating model for the EPIK700 sometime in Q2," says Peeler. "Since that timing cannot be accurately predicted, our Q2 revenue has a wide range," he adds. Veeco hence expects revenue to grow in second-quarter 2015 to between $100 and $150m (with corresponding EPIK700 revenue deferred from Q2 ranging between $65m and $25m, respectively – making $165-175m of shipments in total in Q2).
"In MOCVD, we're shipping products at the fastest rate since Q4/2011, booking orders at higher margins, and extending our market share lead," reckons Peeler.
Gross margin is expected to be 36-39% (impacted by a large-volume purchase from a single customer with higher discount). "As is consistent with new product introduction, gross margin drags a little bit until we reach critical scale with EPIK," notes Maheshwari. "While these factors will prevent gross margin from reaching 40% in Q2 and likely Q3, we reiterate our expectation to achieve gross margin of 40% or more by the fourth quarter of 2015," he adds. "We maintain our focus on driving down manufacturing costs through supply chain management and other initiatives, and expect to see further improvement in gross margin towards the end of the year," says Maheshwari. "We are seeing improvement in margins on the deals that are currently being booked, which will flow through the profit & loss in 6-9 months."
OpEx is expected to be $39-42m in Q2, commensurate with higher revenue, as well as higher incentive compensation, commission and R&D expenses.
Net earnings are expected to range between a loss of $3m ($0.06 per share) and a profit of $14m ($0.33 per share). Adjusted EBITDA should range between breakeven and $20m.
Based upon strong EPIK momentum, MOCVD orders are expected to rise significantly to more than $100m in Q2, driving total bookings to over $140m. "EPIK prices are increasing and are well above the low pricing for our initial high-volume order," notes Peeler. "Lead-times are moving out and we are challenging our manufacturing team to build tools faster," he adds. "We do see some significant orders in the second half of the year."
Aided also by deferred revenue, Veeco hence expects second-half 2015 revenue and profit to be much stronger than the first half. The firm has hence raised its guidance for full-year 2015 revenue growth from over 30% to more than 35%. "We guided PSP business to be $65m for 2015 and we're seeing good order activity there and we expect it to be ahead of that plan," notes Maheshwari.
Veeco's Q4 MOCVD revenue up 55% year-on-year while orders almost triple
Veeco cuts losses, but growth in MOCVD revenue offset by MBE and Data Storage
Veeco's first-half 2014 MOCVD orders up 80% year-on-year
Veeco's revenue rises 24% in Q1, driven by MOCVD recovery
Tags: Veeco MOCVD MBE ALD Wet processing
Visit: www.veeco.com