27 October 2015
Aixtron's revenue grows 35% in Q3
For third-quarter 2015, deposition equipment maker Aixtron SE of Herzogenrath, near Aachen, Germany has reported revenue of €54.6m, up 35% on €40.4m last quarter and up 19.7% on €45.6m a year ago due to increased scheduled shipments.
Global penetration of LED technology in the lighting market continues. Because of the continuing qualification processes for the AIX R6 showerhead metal-organic chemical vapor deposition (MOCVD) system (launched last November for the mass production of LEDs based on gallium nitride), demand for this system type remained subdued. Revenue growth was therefore based on a wide range of different applications such as LEDs, laser, memory chips and power electronics.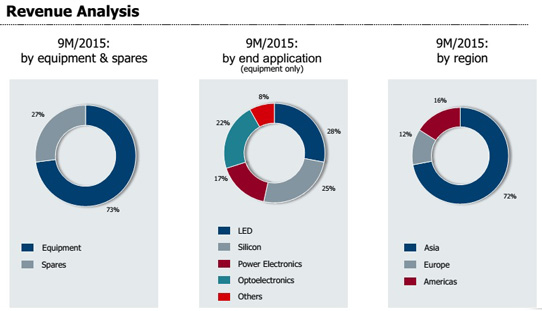 Gross margin has rebounded from just 9% last quarter to 33%, due to a more favorable product mix and lower operational costs, including a payment from a contractual settlement.
Mainly due to better cost control and income from a contractual compensation recorded in other operating income, operating expenses have fallen further, from €24.4m a year ago and €21.5m last quarter to €16.3m.
Hence, for the first time since fourth-quarter 2013, earnings before interest, tax, depreciation and amortization (EBITDA) was positive, at €4.1m, compared with -€15.3m last quarter. Earnings before interest and taxes (EBIT) was also positive, at €1.5m, compared with an operating loss of -€17.9m last quarter.
Despite being an improvement from -€21.7m a year ago, free cash flow has fallen back from -€0.1m last quarter to -€10m. However, this has resulted mainly from the currency difference in the US$-based cash and cash equivalents. During the quarter, cash and cash equivalents (including bank deposits with a maturity of more than three months) hence fell by €11.9m from €255.4m to €243.5m. Aixtron does not have any bank borrowings.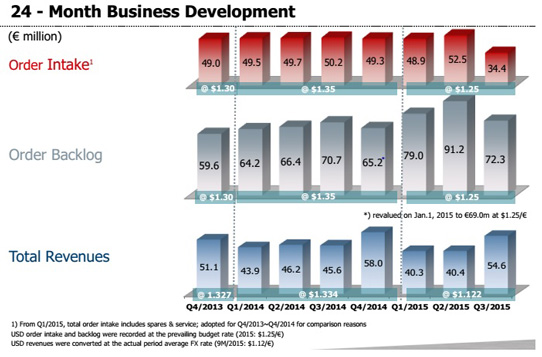 Total order intake (including spares and service) was €34.4m, down 34% on €52.5m last quarter, reflecting the lower overall market demand as well as the effects from the ongoing qualification processes for the AIX R6. Total equipment order backlog at the end of September was €72.3m, up 2% on €70.7m a year previously but down 21% on €91.2m at the end of June. However, this continues to exclude tools from the order of a major Chinese customer, for which deliveries have been postponed from 2015 to 2016 (depending on the progress of the ongoing milestone-based qualification process).
Due to the postponed shipments (in particular of the AIX R6 showerhead system), in mid-October Aixtron lowered its full-year 2015 revenue guidance from €220m-250m to €190-200m (based on the $/€ exchange rate of 1.12 at the end of September). "We work intensively with our customers to push forward and to successfully complete the qualification processes," says president & CEO Martin Goetzeler. Aixtron continues to expect to return to EBITDA break-even in second-half 2015.Year-on-year, EBIT and net result are expected to improve but to remain negative for full-year 2015.
"We continue to proceed in the strengthening of our product and technology portfolio," says Goetzeler. "In the area of OLEDs [organic light-emitting diodes], we have received a first order for our encapsulation technology OptaCap [gained through the acquisition of PlasmaSi Inc of Fremont, CA, USA - which provides low-temperature silicon nitride plasma-enhanced chemical vapor deposition (PECVD) systems for the encapsulation of organic thin-films]. The test runs of our Gen8 demonstrator for the production of large-area OLEDs are moving forward on schedule and therefore we anticipate results from customer demonstrations within the coming months," he adds.
"In addition, we were able to score in applications such as LED, laser, telecommunication and power electronics as well as in memory products," continues Goetzeler. "The margin improvement resulting from it supports our recently communicated profit expectations for the current financial year," he adds. "The third quarter also proves that markets in Europe and the US are still of great importance."
Aixtron lowers full-year 2015 revenue guidance from €220m-250m to €190-200m
Aixtron improves earnings despite revenue drop while new MOCVD system undergoes qualification
Aixtron acquires PECVD-based OLED thin-film encapsulation firm PlasmaSi
Aixtron's revenue rebounds by 27% in Q4, driving 6% growth in full-year 2014
Aixtron continues reorganization in 2015
Aixtron launches AIX R6 next-generation MOCVD system
Aixtron's losses worsen in Q3, driven by product launch, sales mix and upfront investments
China's San'an expands by ordering 50 Aixtron MOCVD systems
Aixtron outlines 5-Point Program to return to sustainable profitability
Tags: Aixtron MOCVD PECVD OLEDs
Visit: www.aixtron.com