29 October 2015
Veeco's Q3 revenue up 51% year-on-year, but
MOCVD orders slump

due to LED oversupply for display backlighting and China slowdown

For third-quarter 2015, epitaxial deposition and process equipment maker Veeco Instruments Inc of Plainview, NY, USA has reported revenue of $140.7m, up 51% on $93.3m a year ago although up only 7% on $131.4m last quarter (which was the highest quarterly revenue since 2012).

On a geographic basis, China rose from 50% of total revenue last quarter to 58%. The remaining 42% was spread fairly evenly across the USA, EMEA (Europe, the Middle East & Africa) and Rest of the World (including Taiwan, Japan and Korea) at 13-15% each.

The Advanced Packaging, MEMS & RF segment contributed 10% of total revenue (relatively level on last quarter's 11%). The Scientific & Industrial segment comprised 10% of total revenue, down on 14% last quarter. The Data Storage segment remained about 13% of revenue.

The Lighting, Display & Power Electronics segment - primarily metal-organic chemical vapor deposition (MOCVD) systems - rose from 62% to 67% of total revenue. Veeco obtained final product acceptance on many EPIK MOCVD tools and recognized a majority of previously deferred EPIK system revenue in Q3. However, service revenue was impacted by declining utilization rates for MOCVD systems, brought on by the broader slowdown in the LED market.

"According to [market research firm] IHS, demand for LCD TVs declined to their lowest levels since the global recession, impacted by the ongoing economic slowdown in China and weaker currencies in multiple markets," notes chairman & CEO John R Peeler. "These conditions resulted in excess supply of LEDs for display backlighting and excess MOCVD capacity. While demand for LED lighting units has remained healthy, due in part to lower bulb pricing, lighting demand was insufficient to absorb the steep decline in display units," he adds. "Additionally, the decline in LED bulb prices has placed severe pricing pressures on chipmakers and has impacted their profitability. As a result, LED manufacturers are delaying their investment plans for both capacity and replacement tool purchases, and we've had a customer push out a delivery of a sizable order booked earlier this year."

Nevertheless, driven by favorable business volume and mix, non-GAAP gross margin has risen further, from 35.5% a year ago and 37.9% last quarter to 39.1% (near the top of the 37.5-39.5% guidance range).

Operating expenses have fallen from $40m last quarter to $36.4m (much lower than the $40-42m guidance) due to reduced incentives, commissions and variable charges associated with the current business conditions.

Operating income has almost doubled from $9.75m last quarter to $18.6m. So, after depreciation of $3.2m, adjusted earnings before interest, taxes, depreciation and amortization (EBITDA) was $21.8m, up from $12.8m last quarter and compared with a loss of $1.8m a year ago, driven by operational leverage and favorable mix.  Likewise, net income was $13.6m ($0.33 per share), up from $8.4m ($0.20 per diluted share) last quarter and compared with a loss of $0.8m ($0.02 per share) a year ago.

Operating cash flow generation has grown from $8m last quarter to $9.9m. During the quarter, cash balances rose by $7m to $403m.

"Veeco's third quarter results demonstrate solid operational execution with gross margin, adjusted EBITDA and earnings per share all above the mid-point of our guided ranges," comments Peeler.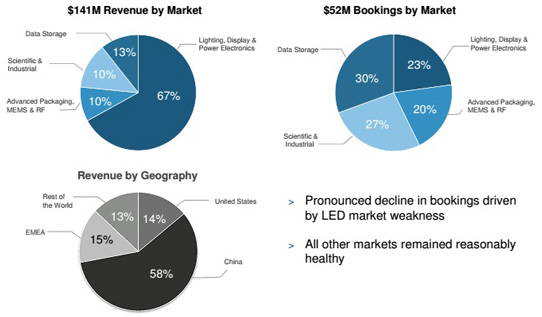 However, in the final weeks of the quarter business conditions deteriorated and severely reduced order bookings, mostly due to MOCVD orders being well below expectations. "We had been actively engaged with leading LED manufacturers to add new MOCVD capacity or replace portions of the installed base," notes chief financial officer & executive VP-finance Shubham Maheshwari. "Based on our discussions, we expected sizeable orders from at least three LED manufacturers to occur in second-half 2015," he adds. "However, as industry conditions continued to weaken [amid ongoing economic uncertainty in China and weak LED demand for TV display backlighting], these customers ultimately made the decision to delay their investment for the time being. This is reflected in our Lighting, Display and Power Electronics bookings, which declined by nearly $75m sequentially and represented only 23% of total Q3 bookings [compared with 70% last quarter]." 
Compared with just 14% last quarter, Advanced Packaging, MEMS & RF bookings comprised 20% of total orders in Q3. Scientific & Industrial bookings rose from 10% of total orders last quarter to 27%, fairly evenly divided between molecular beam epitaxy (MBE) and ion beam deposition tools. Data Storage bookings rebounded from just 6% of total orders last quarter to 30% (although demand in this market is expected to fluctuate).
Total order bookings have plunged from $124m last quarter to a much less-than-expected $52m (although they would have been relatively level quarter-over-quarter without the MOCVD postponements). During the quarter, total order backlog hence plunged from $279m to $187m.
The balance of the deferred EPIK MOCVD revenue is expected to be largely recognized in fourth-quarter 2015. However, Veeco expects Q4 revenue to fall to $90-110m, impacted by the push-out of a number of MOCVD tools into 2016 by a China-based LED manufacturer while this customer faces challenges in securing letters of credit.
Gross margin should be 32-35%, due to the combined impact of significantly lower volume and an unfavorable mix. Veeco's ability to reach the targeted gross margin of 40% by Q4/2015 has been impacted by low MOCVD sales volume, in combination with low-margin EPIK tools booked last year as part of a large-quantity order. However, EPIK cost-reduction plans are on track and should be fully implemented by end-2015. "EPIK performance in the field remains strongly differentiated, and we have seen no deterioration in pricing environment, just a significant drop-off in volume," notes Maheshwari. "We remain confident that our target gross margin of 40% is achievable as MOCVD volume picks up."
Operating expenses in Q4 are expected to be $35-37m (including the reimbursement for certain development costs which were largely incurred in prior quarters). Operating income should be between -$6m and +$2m. After depreciation of $3m, adjusted EBITDA should be between -$3m and +$5m. Earnings per share are expected to be between a loss of $0.12 and a profit of $0.07. 
For full-year 2015, Veeco is lowering its revenue guidance by about 20% to $460-480m, up 17-22% on 2014's $393m (rather than greater than 35%, forecast previously).
"Given our limited visibility in the customer order timing, it is difficult to predict the duration of this [MOCVD] investment pause," notes Peeler. "However, demand for LED lighting remains healthy, which gives us confidence that investments will resume once industry conditions improve," he adds.
"We will continue to prudently manage costs while balancing investments necessary to support our long-term growth and strategic objectives," concludes Maheshwari.
Share repurchase program authorized
Veeco's board of directors has authorized a program to repurchase (over the next two years) up to $100m of the firm's outstanding common stock (about 12% of Veeco's outstanding shares), funded using available cash balances and cash generated from operations. This "underscores our confidence in longer-term growth prospects and our commitment to enhance shareholder value," says Peeler. "Our strong balance sheet provides us with the flexibility to execute share repurchases while continuing to invest in R&D and other opportunities to profitably grow our business," he adds.
Veeco enters profit, as EPIK system revenue recognition aids 33% growth in Q2
Veeco ships 50th EPIK 700 GaN MOCVD reactor in less than a year
Veeco's Q4 MOCVD revenue up 55% year-on-year while orders almost triple
Veeco launches MOCVD platform for development of GaN power electronic devices
Veeco launches 31x4"/12x6"/6x8"-wafer EPIK700 GaN MOCVD system
Veeco cuts losses, but growth in MOCVD revenue offset by MBE and Data Storage
Tags: Veeco MOCVD MBE ALD Wet processing
Visit: www.veeco.com