13 December 2017
Finisar's sees lower quarterly telecom revenues from Chinese OEMs
© Semiconductor Today Magazine / Juno Publishing
For fiscal second-quarter 2018 (ended 29 October 2017), fiber-optic communications component and subsystem maker Finisar Corp of Sunnyvale, CA, USA has reported revenue of $332.2m, down 2.8% on $341.8m last quarter and down 10.2% on $369.9m a year ago.
This is due mainly to Telecom product sales falling to $75.6m, down 9.5% on $83.5m last quarter (driven primarily by lower revenue from Chinese OEM customers) and down 29.7% on $107.6m a year ago.
Datacom product sales were $256.6m, down only slightly by 0.7% on $258.3m last quarter, due mainly to lower demand for 10G-and-below transceivers, 40G QSFP transceivers and 100G CFP Ethernet transceivers, partially offset by strong demand for 100G QSFP28 transceivers for data centers (about $100m) as well as new revenues from vertical-cavity surface-emitting laser (VCSEL) arrays for 3D sensing (which began shipping in production quantities).
Like last quarter, Finisar had two 10%-or-greater customers, but the top 10 customers represented 60.2% of revenue, down from 62.5%.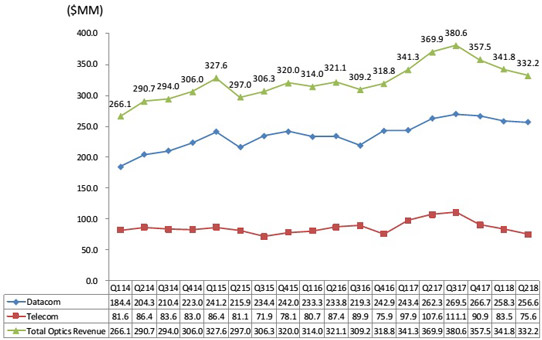 Graphic: Finisar's quarterly revenue trends.
On a non-GAAP basis, gross margin has fallen further, from 37.2% a year ago and 34.9% last quarter to 30.3% (below the 33-34% guidance). As well as the lower revenue, this was due to an unfavorable product mix and under-absorption of fixed manufacturing costs at the firm's 4"-wafer VCSEL fab in Allen, TX (primarily a result of shipments of production quantities of VCSEL arrays starting only late in the quarter).
Operating expenses have risen further, from $69.4m a year ago and $73.2m last quarter to $74.6m (due mainly to the impact of the annual merit increase that took effect on 1 August), although this is below the expected $75-76m.
Operating margin has fallen from 18.5% a year ago and 13.5% last quarter to 7.8% (below the 10-11% guidance). Likewise, net income was $26.1m ($0.23 per fully diluted share, below the $0.27-0.33 guidance), down from $45.8m ($0.40 per fully diluted share) last quarter and $65.2m ($0.58 per fully diluted share) a year ago.
Capital expenditure (CapEx) has fallen back from $51.9m last quarter to $45.2m (below the targeted $50-55m), despite construction continuing on the third building of Finisar's manufacturing site in Wuxi, China (for which construction is on schedule for completion in calendar second-half 2018).
Cash, cash equivalents and short-term investments remained about $1.233bn.
For fiscal third-quarter 2018, Finisar expects revenue of $325-345m. Datacom product sales should grow, driven by 100G QSFP28 transceivers (for which the firm believes it is the world's largest supplier) as well as VCSEL arrays for 3D sensing. This will be partially offset by declines in both 100G CFP and CFP2 Ethernet transceivers as well as 40G-and-below transceivers. Telecom product revenue is expected to fall, due mainly to the impact of one month of the annual telecom price decreases (which typically take effect on 1 January). However, Finisar did achieve full qualification of its CFP2-ACO coherent transceiver at a key OEM customer and still expects to finish qualification of the ROADM line-card of that customer in late fiscal Q3 or early Q4/2018. "In addition, we believe we are well positioned in the China market for ROADMs, as we are the largest supplier there for wavelength-selective switches (WSS)," says chairman & CEO Jerry Rawls.
Finisar expects gross margin of 30-31%, as the benefit from the sales of additional VCSEL arrays is offset by the impact of the annual telecom price decreases.
Operating expenses should be relatively flat at about $75m. Operating margin is expected to be 7.5-8.5%. Earnings per diluted share should be $0.21-0.27 per share.
This is after CapEx of an estimated $50m. However, this does not include the cost of acquiring (after the end of fiscal Q2/2018) a 700,000ft2 semiconductor fab in Sherman, TX for $20m, as well as at least another $20m to upgrade it (starting during fiscal Q3). At least $100m more will be spent over the coming year equipping the fab for 6" wafer processing. This will expand Finisar's volume production of VCSEL arrays, starting in calendar second-half 2018. "We have people in the company that have processed 6" wafers at prior employment, but it will be a new experience for Finisar. So, it will be challenging," notes Rawls.
"While the near-term environment is a bit uncertain, we remain very optimistic about our long-term growth prospects," says Rawls. "We expect Finisar's VCSEL technology will be used in a variety of applications including several high-volume uses in consumer and automotive."
Finisar's quarterly revenue falls 4.4%, as lower 10G transceiver demand offsets growth in 100G QSFP28 transceivers
Finisar reports record full-year revenue, but a 6% drop quarter-to-quarter driven by Chinese telecom OEMs
Finisar reports another quarterly revenue record, but up only 2.9%
Finisar's quarterly revenue grows 8.4% to record $370m
Tags: Finisar
Visit: www.finisar.com