11 September 2017
Finisar's quarterly revenue falls 4.4%, as lower 10G transceiver demand offsets growth in 100G QSFP28 transceivers
For fiscal first-quarter 2018 (ended 30 July 2017), fiber-optic communications component and subsystem maker Finisar Corp of Sunnyvale, CA, USA has reported revenue of $341.8m, roughly level with $341.3m a year ago but down 4.4% on $357.5m last quarter, due mainly to a decline in telecom revenue as well as a drop in 10G-and-below datacom transceivers.
Datacom product sales were $258.3m, up 5.8% on $243.4m a year ago but down 3.1% on $266.7m last quarter, due to lower demand for datacom products, primarily 10G-and-below transceivers, partially offset by a rise in sales of 100G QSFP28 transceivers.
Telecom product sales were $83.5m, down 8.1% on $90.9m last quarter and 14.7% on $97.9m a year ago.
Finisar had two 10%-or-greater customers. The top 10 customers comprised 62.5% of revenue, compared with 58.9% last quarter.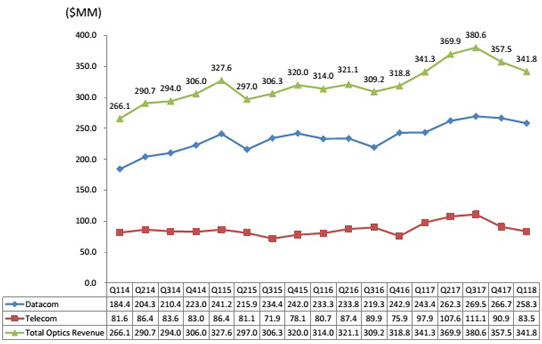 Graphic: Finisar's quarterly revenue trends.
On a non-GAAP basis, gross margin was 34.9%, up from 33.1% a year ago but down from 36.2% last quarter. Operating expenses have risen further, from $69.3m a year ago and $71m last quarter to $73.2m.
Operating margin was 13.5% of revenue, down from 16.3% margin last quarter. Net income was $45.8m ($0.40 per diluted share), up from $41.8m ($0.38 a year ago) but down from $57.5m ($0.50 per diluted share) last quarter, primarily due to the lower revenue.
Capital expenditure (CapEx) has risen from $47.8m last quarter to $51.9m, as construction continues on the third building of Finisar's manufacturing site in Wuxi, China (to be completed in calendar second-half 2018).
During the quarter, cash, cash equivalents and short-term investments hence fell by about $4m, from $1.237bn to $1.233bn.
For fiscal second-quarter 2018, Finisar expects revenue of $322-342m. Datacom product revenue should to relatively flat, with growth for 100G QSFP28 transceivers as well as initial sales of high-power vertical-cavity surface-emitting laser (VCSEL) arrays for 3D sensing being offset by declines in both 100G CFP and CFP2 Ethernet transceivers as well as 10G-and-below transceivers. Telecom product revenue is expected to fall, due mainly to lower demand from Chinese OEM customers.
Gross margin should be 33-34%, due to lower revenue, higher depreciation and the impact of the annual employee merit increases that took effect on 1 August. Operating expenses are targeted to rise further to $75-76m, driven primarily by the impact of the annual merit increases. Operating margin is expected to fall to 10-11%, while earnings per fully diluted share fall to $0.27-0.33. Targeted CapEx is $50-55m.
"We remain very optimistic about our long-term growth prospects and we expect to increase our revenues in the second half of the fiscal year," says chairman & CEO Jerry Rawls. "This growth will be driven primarily by sales of a 100G QSFP28 transceivers for hyper-scale data centers and high-power VCSEL arrays for 3D sensing," he adds. "While we continue to make progress with our high-power VCSEL array program, the timing of our production ramp has been delayed due to a change we needed to make in our manufacturing process. Therefore, while we do expect to receive customer approval to ship production units in the second quarter, we only expect to achieve a relatively low level of revenue in the quarter," he adds. "We expect to start shipping much larger quantities in the fiscal third quarter."
"In addition, by the end of the second quarter we expect our 100G & 200G coherent CFP2 ACO transceiver to be fully qualified by a key OEM customer that supplies into the Verizon Metro network. And in the third quarter we also expect our ROADM line-card to be qualified at the same customer," Rawls concludes.
Finisar reports record full-year revenue, but a 6% drop quarter-to-quarter driven by Chinese telecom OEMs
Finisar reports another quarterly revenue record, but up only 2.9%
Finisar's quarterly revenue grows 8.4% to record $370m
Finisar quarterly revenue grows a more-than-expected 7%, driven by 22% growth in 100G datacom transceivers
Tags: Finisar
Visit: www.finisar.com