20 March 2017
Finisar reports another quarterly revenue record, but up only 2.9%
For its fiscal third-quarter 2017 (ended 29 January), fiber-optic communications component and subsystem maker Finisar Corp of Sunnyvale, CA, USA has reported record revenue of $380.6m, up 2.9% on $369.9m last quarter and 23.1% on $309.2m a year ago. However, this was towards the low end of the expected $378-398m, mainly because of lower-than-expected sales of 100G CFP transceiver modules into China. "We thought there were going to be some orders in the last week just prior to Chinese New Year that didn't happen," notes chief financial officer Kurt Adzema.
Datacom product sales were $269.5m, up just 2.8% on $262.3m last quarter but up 18.6% on $219.3m a year ago, due mainly to growth in demand for 100G transceivers (up 9% on last quarter and 110% on a year ago).
Telecom product sales were $111.1m, up 3.2% on $107.6m last quarter and 23.6% on $89.9m a year ago, due to higher sales of wavelength-selective switch (WSS) and reconfigurable optical add-drop multiplexer (ROADM) line-card products (driven by Chinese OEM customers).
There were again two 10%-or-greater customers. The top 10 customers represented 57.4% of total revenue.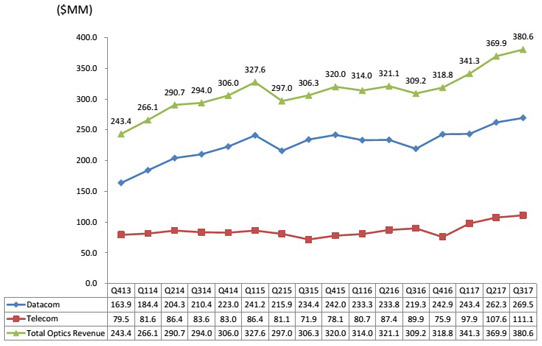 Graphic: Finisar's quarterly revenue trends.
On a non-GAAP basis, gross margin was 37%, down slightly from 37.2% last quarter (and at the bottom end of the expected range of 37-38%) but still up on 30.3% a year ago.
Operating expenses have risen further from $67.3m a year ago and $69.4m last quarter to $70.5m, but this is below the expected $72m, and OpEx has nevertheless been cut as a percentage of revenue further from 21.8% a year ago and 18.8% last quarter to 18.5%.
Operating income was $70.4m (18.5% of revenue, at the bottom end of the expected range of 18.5-19.5%), but this is up from $68.3m last quarter and just $26.3m (8.5% of revenue) a year ago. Likewise, net income has risen further, from just $26.6m ($0.25 per diluted share) a year ago and $65.2m ($0.58 per diluted share) last quarter to $67.2m ($0.59 per diluted share, towards the low end of the guidance range of $0.58-0.64).
Capital expenditure has been increased from $30m last quarter to $42m (slightly above the planned $40m).
During the quarter, cash, cash equivalents and short-term investments rose by $588m from $626.3m to about $1.2bn. This was due mainly to the issuance of $575m of 0.50% convertible notes (due in December 2036), which yielded net proceeds of $569.3m. Excluding those net proceeds, cash would have risen by $18.7m.
For fiscal fourth-quarter 2017, Finisar expects revenue to fall slightly to $360-380m (lower than previously expected). Datacom revenue should grow by $5m, due mostly to continued growth for 100G QSFP28 transceivers, partially offset by lower sales of 10G-and-below short-wavelength transceivers. However, Telecom revenue will fall by $15m, mostly from three factors: annual telecom price reductions, seasonality associated with Chinese New Year, and continuing lower revenue from 100G CFP transceivers in China.
Due mainly to the impact of the telecom price reductions and lower levels of revenue, gross margin will fall to about 36%. Operating expenses should be steady at about $70m. Operating margin is expected to be 17%. Earnings per fully diluted share should be $0.50-0.56.
Capital expenditure will be increased further to $50m, driven by capacity expansion in the vertical-cavity surface-emitting laser (VCSEL) fab in Allen, Texas, targeting new 3D sensing opportunities for consumer applications.
During fiscal Q3, Finisar shipped many thousands of its high-powered VCSEL arrays for 3D sensing. "We are continuing to add manufacturing capacity in anticipation of strong demand from this application in the second half of calendar year 2017," says chairman & CEO Jerry Rawls.
At the beginning of fiscal Q4, Finisar acquired the rights to a manufacturing facility in China. The firm expects to complete building construction on this site in calendar second-half 2018, which will be used primarily for manufacturing. Capital expenditures for full-year fiscal 2018 is expected to be $35-40m per quarter.
"We are optimistic about fiscal year 2018. We believe our revenues will grow again, starting from the first quarter," says Rawls. "We expect continued growth from the sales of 100G QSFP28 transceivers, mostly for hyperscale data centers. We are currently sold out on this product and, despite our continuing to add capacity, we expect that sold-out situation to last at least through the end of calendar year 2017," he adds.
In addition, Finisar expects to finally achieve qualification in fiscal first-quarter 2018 for both its 100G coherent CFP2 ACO transceiver and its ROADM line-card for use in the Verizon metro upgrade. "We have already completed qualification of our CFP2 ACO at multiple customers and are in the qualification process with several others," says Rawls. "Chinese service providers will begin domestic deployments of ROADMs in the second half of calendar 2017," he believes.
"As we go into the next fiscal year [fiscal 2018], I would expect that CFP sales themselves are probably going to be flat," continues Rawls. "CFP is migrating to CFP2 and we've got CFP4, and all of those eventually are going to go to QSFP28. CFP has been a good product for a long time for us, but we're not expecting a lot of growth out of it in the future."
Finisar's quarterly revenue grows 8.4% to record $370m
Finisar quarterly revenue grows a more-than-expected 7%, driven by 22% growth in 100G datacom transceivers
Finisar's growth in 100G datacom transceivers outweighs drop in legacy 10G telecom products
Finisar's wavelength-selective switch Telecom sales growth offsets tail-off in 40G transceiver Datacom sales
Tags: Finisar
Visit: www.finisar.com