14 March 2018
Finisar's quarterly revenue growth in 100G QSFP28 transceivers for data centers compensates for lower China telecom sales
© Semiconductor Today Magazine / Juno PublishiPicture: Disco's DAL7440 KABRA laser saw.
For fiscal third-quarter 2018 (ended 28 January), fiber-optic communications component and subsystem maker Finisar Corp of Sunnyvale, CA, USA has reported revenue of $332.4m, down 12.7% on $380.6m a year ago and roughly level with $332.2m last quarter.
Datacom product sales were $266.1m, down 1.3% on $269.5m a year ago but up 3.7% on $256.6m last quarter, due mainly to record revenue from 100G QSFP28 transceivers for data centers (growing by about $15m from roughly $100m last quarter) as well as strong growth for vertical-cavity surface-emitting laser (VCSEL) arrays for 3D sensing (which began shipping in production quantities from the firm's 4"-wafer fab in Allen, Texas, only late last quarter), offset by lower sales of 40G QSFP and 100G CFP and CFP2 Ethernet transceivers.
Telecom product sales were $66.3m, down 12.3% on $75.6m last quarter (driven primarily by the impact of one month of the annual telecom price reductions as well as lower revenue from Chinese OEM customers) and down 40.3% on $111.1m a year ago. In particular, revenue for wavelength-selective switches (WSS) for reconfigurable optical add/drop multiplexers (ROADMs) was flat to down a bit (compared with strong revenue last quarter).
Like last quarter, Finisar had two 10%-or-greater customers. The top 10 customers represented 63.3% of total revenue (up from 60.2% last quarter).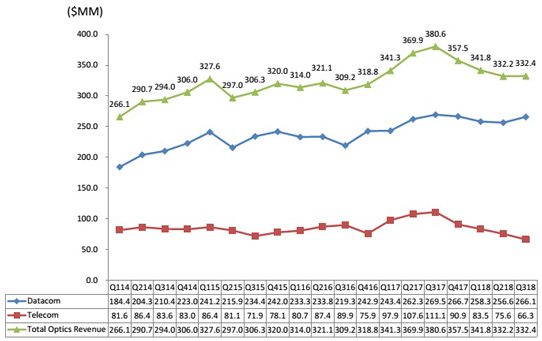 Graphic: Finisar's quarterly revenue trends.
On a non-GAAP basis, gross margin has fallen further, from 37% a year ago and 30.3% last quarter to 28.6% (below the 30-31% guidance). This is due mainly to unfavorable product mix, the impact of one-month of the annual telecom price reductions (which were at the higher end of the usual 10-15% range, due to the poor demand environment), and the non-cash impact of an increase in inventory reserves. "Last calendar year, we were largely in a constrained environment in our 100G QSFP28 product line and a relatively benign pricing environment. Now that there's more of an equilibrium between supply and demand we are definitely seeing stronger price erosion and competition as it relates to that 100G QSFP28 product line," notes executive VP & chief financial officer Kurt Adzema. "We are not producing and selling as many VCSEL arrays as we would like," he adds. "We're working on our yields; they're not where we would like them to be."
Although still up on $70.5m a year ago, operating expense (OpEx) was $72.4m, cut from $74.6m last quarter (and below the expected $75m).
Due mainly to the lower gross margin, operating margin has fallen further, from 18.5% of revenue a year ago and 7.8% last quarter to 6.8% (below the 7.5-8.5% guidance).
Likewise, net income has fallen further, from $67.2m ($0.59 per diluted share) a year ago and $26.1m ($0.23 per diluted share) last quarter to $22.8m ($0.20 per diluted share, below the expected $0.21-0.27). This is due mainly to the lower gross margin as well as non-GAAP taxes rising by $0.8m to $3m as a result of an unrealized gain in China from the weakening US dollar relative to the Chinese Renminbi (with an impact of about $0.01 per diluted share).
Capital expenditure (CapEx) was $38.6m (less than the forecasted $50m). Finisar also spent $20.2m on the purchase of the new 700,000ft2 facility in Sherman, Texas (to be used to expand manufacturing capacity for VCSELs using 6-inch wafers).
During the quarter, cash and short-term investments hence fell from $1.233bn to $1.216bn.
For fiscal fourth-quarter 2018 (to end-April), Finisar expects revenue to fall by about $22m to $300-320m, due mainly to lower demand for VCSEL arrays, lower revenue from 40G datacom transceivers, and lower telecom revenue driven primarily by the full three-month impact of the telecom price reductions from 1 January. Gross margin should hence fall slightly to 27-28%. With OpEx expected to be relatively flat, operating margin should fall further to about 4%. Earnings per fully diluted share are expected to drop to $0.09-0.15.
CapEx should be $45m, including about $8m for the continuing construction and fit out of the third building of Finisar's Wuxi manufacturing site (due for completion in calendar second-half 2018). Separately, uplift of the building and additional equipment at the Sherman facility should add another $55m in CapEx. This should be followed by another $55m on Sherman in fiscal Q1/2019, then the remainder of a total $150m investment in the first phase of capacity expansion at Sherman in fiscal Q2/2019.
"While our third quarter financial performance is disappointing, and the outlook for the industry in the next few quarters is expected to be challenging, I'm optimistic that we can ultimately improve our financial results through a combination of improved execution and a healthier demand environment," says CEO Michael Hurlston. "We do expect some improvement in the back half of the [calendar] year, primarily coming from our WSS product line. We expect some uplift in the Chinese market and we should see some improvement there," he adds.
"We are currently reviewing all aspects of how we do business in the markets we participate in," Hurlston continues. "While I believe the near-term will remain challenging for the industry, this type of environment often creates exciting opportunities. In addition, I believe we can ultimately restore the company's gross and operating margins back to historic levels over time."
In particular, whereas the 4"-wafer VCSEL fab in Allen, Texas was running at less than half of its $20m+ quarterly capacity in the January quarter, the April quarter should see $20-25m of output. Also, the new 6"-wafer VCSEL fab in Sherman should enter production in calendar second-half 2018, with quarterly revenue capacity of $50-60m. "We can certainly in the first phase build Sherman to a capacity of $80m plus," believes Hurlston. "As we go out some distance and time and build on multiple phases, I think then you can see $100m," he adds. "Our intention is to consolidate Sherman and Allen. But I don't think that we're going to run simultaneously for very long in Sherman and Allen."
"Uptick in gross margin, especially as it relates to the Sherman facility, is going to come down to volume and yields," notes Adzema. "There will be a ramp period of course, but we expect our VCSEL arrays for 3D sensing to be margin accretive."
Finisar's sees lower quarterly telecom revenues from Chinese OEMs
Finisar's quarterly revenue falls 4.4%, as lower 10G transceiver demand offsets growth in 100G QSFP28 transceivers
Finisar reports record full-year revenue, but a 6% drop quarter-to-quarter driven by Chinese telecom OEMs
Finisar reports another quarterly revenue record, but up only 2.9%
Tags: Finisar
Visit: www.finisar.com