10 September 2018
Finisar's quarterly revenue grows more than expected due to ROADM deployment in China and India
© Semiconductor Today Magazine / Juno PublishiPicture: Disco's DAL7440 KABRA laser saw.
For its fiscal first-quarter 2019 (ended 29 July 2018), fiber-optic communications component and subsystem maker Finisar Corp of Sunnyvale, CA, USA has reported revenue of $317.3m, down 7.2% on $341.8m a year ago but up 2.3% on $310.1m last quarter (and above the mid-point of the $305-325m guidance range).
Datacom & Sensing product sales – including vertical-cavity surface-emitting laser (VCSEL) arrays for 3D sensing applications - were $238.1m, down 7.8% on $258.3m a year ago and 4% on $248m last quarter, due mainly to lower demand for 40G transceivers. Half of datacom revenue still came from 100G products, with growth for CFP and CFP2 modules offsetting a drop for QSFP28 modules due to pressure on average selling prices (ASPs).
Telecom product sales were $79.2m, down 5.1% on $83.5m a year ago but up 27.5% on $62.1m last quarter, due mainly to increased demand for wavelength-selective switches (WSS) driven by carrier deployments in India and China. "In our core business, we are continuing to see a very strong demand for our ROADMs [reconfigurable optical add/drop multiplexers] on a global basis, with India and China beginning to deploy ROADMs in large volumes," notes CEO Michael Hurlston.
Like last quarter, Finisar had two 10%-or-greater customers. The top 10 customers represented 62% of total revenue.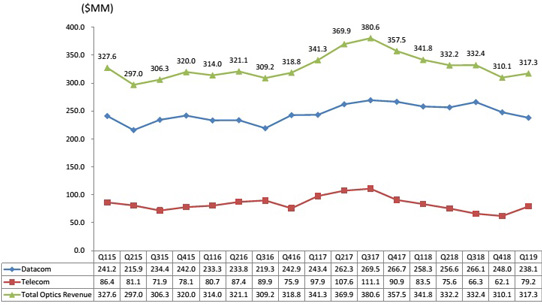 On a non-GAAP basis, gross margin was 27.5%, down from 34.9% a year ago but up from 24.7% last quarter (and above the expected 26-27%) due mainly to lower levels of additions to non-cash inventory reserves and a favorable product mix.
Operating expenses have been cut further, from $73.2m a year ago and $72m last quarter to $68.3m (21.5% of revenue). "We were able to accelerate the process of bringing more focus to our product development efforts, which allowed the company to reduce relative expense levels faster than expected," says Hurlston.
Despite being down from $46m (13.5% margin) a year ago, operating income was $18.8m (operating margin of 5.9% of revenue, above the expected 4-5%), up from $4.6m (1.5% margin) last quarter, due mainly to the higher revenue, higher gross margin and lower operating expenses. "We made better-than-expected process in our efforts to focus the product portfolio and be more strategic as to how do we invest our R&D dollars," notes Hurlston. "This in turn allowed us to make great strides toward our goal of a sustainable operating margin of 12-15%."
Net income was $21.3m ($0.18 per diluted share, exceeding the expected $0.10-0.16), down from $45.3m ($0.40 per diluted share) a year ago but up from $5.8m ($0.05 per diluted share) last quarter.
During the quarter, cash and short-term investments fell slightly from $1.197bn to $1.159bn. This was after capital expenditure (CapEx) of $112.7m, of which $4m related to construction and fit out of the third building of Finisar's manufacturing site in Wuxi, China and $97m related to uplift of the new 700,000ft2 facility in Sherman, Texas (purchased in late 2017) and the delivery of capital equipment for it (to expand manufacturing capacity for VCSELs using 6-inch wafers, compared with 4-inch wafers at Finisar's existing VCSEL fab in Allen, Texas).
In fiscal second-quarter 2019 (to end-October 2018), Finisar expects CapEx of $35m for additional equipment for the Sherman fab, plus $28m in other CapEx, including $3m for the third building in Wuxi (due for completion largely by the end of the quarter).
For fiscal Q2, Finisar expects revenue to grow to $315-335m, due to an increase in demand for VCSEL arrays for 3D sensing applications in connection with the expected timing of new product introductions, partially offset by lower revenue from 10G-and-below Ethernet transceivers. Telecom revenue should be relatively flat due to capacity constraints. Gross margin should improve further to 28%. Due to a combination of higher revenue, better gross margin and lower operating expenses, operating margin is expected to continue to improve, to 7-8%. Earnings per fully diluted share should rise to $0.19-0.25.
"Our Allen fab is a gate for us, and is capacity limited in the near term [to $20-25m revenue per quarter]," says Hurlston. "As we start ramping Sherman, that capacity gate comes off, but in the very near term it is still dominated by one customer. Our ability to show revenue growth is going to be in terms of increasing market share at that customer," he adds.
"But, in addition, we are either in process or have completed qualifications with many new VCSEL array customers for both consumer and automotive applications that would drive future growth in this important market segment," says Hurlston. "In our new VCSEL laser fab in Sherman, Texas, we have completed the uplift of the building and installed a significant amount of the capital equipment for our first phase of capacity. We have begun the internal qualification for process of all the equipment and still expect to be qualified and in production using our 6-inch wafers by the end of this calendar year," he adds.
"For the upcoming 5G transition for wireless, we are a leading supplier of the major OEMs of 25G and 100G data rates for both short- and long-reach applications. We also believe we are well positioned for the 100G-to-400G transition in the enterprise and data-center markets starting in calendar 2019," continues Hurlston.
"We expect to further reduce operating expenses. Last quarter I said that, to achieve our operating margin model, we needed to manage our operating expenses to 18-20% of revenue, and we now expect operating expenses to be 20-21% in the second fiscal quarter. Over the coming quarters, we will continue to take additional steps to execute a plan consistent with these financial objectives."
Finisar to open new 3D VCSEL production facility in Texas
Finisar's quarterly revenue falls 6.7% due to lower demand from Chinese OEMs
Finisar's quarterly revenue growth in 100G QSFP28 transceivers for data centers compensates for lower China telecom sales
Finisar's sees lower quarterly telecom revenues from Chinese OEMs
Finisar's quarterly revenue falls 4.4%, as lower 10G transceiver demand offsets growth in 100G QSFP28 transceivers
Tags: Finisar
Visit: www.finisar.com