13 February 2019
Veeco's revenue falls 22% in Q4/2018 due to commoditization of China LED MOCVD market
Epitaxial deposition and process equipment maker Veeco Instruments Inc of Plainview, NY, USA has reported full-year revenue of $542.1m for 2018, up 14% on $475.7m for 2017.
However, this was despite fourth-quarter revenue of just $99m, falling by 21.9% from $126.8m last quarter and 29.1% from $139.7m a year ago.
The LED Lighting, Display & Compound Semiconductor segment plummeted from 46% of total revenue last quarter to just 14%. "The commodity portion of the LED business, which includes the sale of our MOCVD [metal-organic chemical vapor deposition] systems to the China LED market, has been under pricing pressure and is becoming a smaller portion of our business," says CEO Bill Miller. Most of this segment's revenue was therefore in Compound Semiconductors, including MOCVD systems for specialty LEDs, automotive, photonics and power electronics applications as well as Precision Surface Processing (PSP) systems for RF device manufacturing.
The Advanced Packaging, MEMS & RF Filter segment - including lithography and PSP systems sold to integrated device manufacturers (IDMs) and outsourced assembly & test firms (OSATs) for Advanced Packaging in automotive, memory and other areas - fell from 19% to 14% of total revenue, due to the continued low smartphone business environment.
The Front-End Semiconductor segment (formerly part of the Scientific & Industrial segment, before the May 2017 acquisition of lithography, laser-processing and inspection system maker Ultratech Inc of San Jose, CA, USA) rose from 11% to 22% of total revenue, driven by laser spike annealing (LSA) for foundry customers.
The Scientific & Industrial segment (including shipments to data storage and optical coding customers) grew sharply from 24% to 50% of total revenue, due to expansion by data storage customers to increase areal density and to respond to the growth in cloud storage.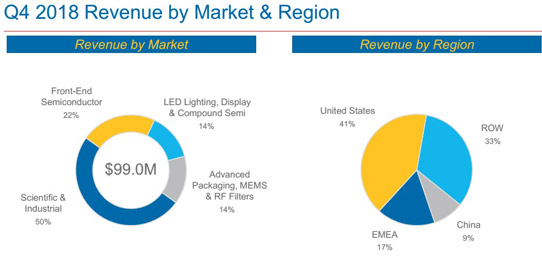 Geographically, compared with last quarter, China has plummeted from 31% to just 9% of total revenue ("indicative of the revenue profile going forward", having been as much as 47% in Q2/2018). Europe, Middle East & Africa (EMEA) has fallen back from 24% to 17%. Meanwhile, the USA has risen sharply from 23% to 41%, and rest of the world from 22% to 33% (driven by Front-End Semiconductor shipments to Taiwan and Korea).
On a non-GAAP basis, gross margin has fallen further, from 40.5% a year ago and 38.2% last quarter to 36% (well below the prior goal of 40%), impacted negatively by low volumes but offset by benefits from product mix. Full-year gross margin has hence fallen from 39.7% for 2017 to 36.6% for 2018.
Full-year operating expenditure (OpEx) was $175.2m, but quarterly OpEx has been cut from $49m a year ago to $42.6m in Q4, mainly through cutting selling, general & administrative (SG&A) spending rather than R&D spending for growth sectors.
Q4/2018 yielded a net loss of $7.5m ($0.16 per diluted share), compared with net income of $5.3m ($0.11 per diluted share) last quarter and $6m ($0.13 per diluted share) a year ago. Full-year net income was hence down, from $16.8m ($0.38 per diluted share) for 2017 to $14.2m ($0.30 per diluted share) for 2018.
Cash flow from operations fell from $18m last quarter to just $2m in Q4. During the quarter, cash and short-term investments fell by $5m from $266m to $261m.
Long-term debt on the balance sheet rose slightly from $284m to $287m, representing the carrying value of $345m in convertible notes. There were no share repurchases in Q4/2018, but for the full year Veeco repurchased 950,000 shares (about 2% of its market capitalization) at an average price of $11.88 per share.
Despite being down 37% on $179m a year ago, order bookings of $112m in Q4/2018 are up 12% on $100m in Q3. "We see order activity in leading-edge Front-End Semiconductor and exciting growth opportunities in Compound Semiconductor and Advanced Packaging," notes Miller.
The Front-End Semiconductor market was steady at 36% of total bookings due to strong momentum in LSA products for foundry customers and at EUV mask blank customers. Advanced Packaging, MEMS & RF Filters orders rose from just 11% to 19% of overall bookings. LED Lighting Display and Compound Semiconductor orders remained just 12% of bookings due to the reduced levels of commodity blue LED business (especially from China). Scientific & Industrial orders fell from 39% to 33% of overall bookings.
Order backlog rebounded slightly from $276m last quarter to $288m in Q4 (though still down on $334m a year ago).
Veeco says that its foundational businesses remain stable, and include: service business; wet etch & clean; data storage; universities & research labs; and optical coatings for industrial, medical & military markets.
The cash generated by these foundational businesses is supporting the following growth initiatives (which align with multiple megatrends): ion beam deposition systems for EUV mask blanks and laser annealing for advanced wafer processing (Front-End Semiconductor); MOCVD (Compound Semiconductor) for 3D sensing/VCSELs (vertical-cavity surface-emitting lasers); and lithography for wafer-level packaging (Advanced Packaging).
As Veeco hence focuses on a business transition from commodity blue LED MOCVD markets to the Front-End Semiconductor and Compound Semiconductor markets, inventory remains elevated (rising from $150m in Q3 to $156m in Q4) as it ramps EUV mask blank systems production and continues to invest in new products for MOCVD and to engage key customers with evaluation systems. Consequently, days of inventory (DOI) rose further, from 173 days in Q3 to 219 days in Q4.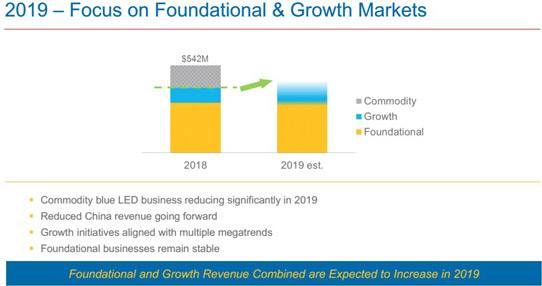 For first-quarter 2019, Veeco expects roughly level revenue of $85-105m and gross margin of 34-36%. Despite OpEx being cut further to $41m, net loss should be $14-5m ($0.30-0.10 per share).
"Based on our backlog and current visibility, we see Q2 sales cracking slightly above Q1," says chief operating officer & chief financial officer Sam Maheshwari. "We are on track to meet our target of $40m of OpEx for Q2/2019," he adds.
"As we look at 2019, we expect the combination of foundational and growth businesses to grow, while the commodity MOCVD business declines," says Maheshwari. "We currently expect 2019 revenue to be higher than the current quarterly revenue run rate would suggest [and likewise for gross margin]."
Veeco's Q3 revenue down more than expected due to China market softness
Veeco reports higher-than-expected Q2 profits, despite falling revenue from sales of blue LED MOCVD systems to China
Veeco's revenue grows 14% in Q1 to $158.6m, driven by MOCVD system shipments to China
Veeco's revenue rises 9% in Q4/2017, driven by rebound in GaN MOCVD sales to China
Veeco completes acquisition of Ultratech for $862m
Visit:  www.veeco.com