News
23 April 2007
Sony boosts blue-violet laser capacity to 1.7 million per month
The Sony Corp subsidiary Sony Shiroishi Semiconductor Inc of Miyagi-Prefecture, Japan says that, since starting production in 1986, its cumulative shipments of laser diodes up to this March reached 2 billion units (including infrared lasers for CD players, red lasers for DVD players and blue-violet lasers for Blu-ray Disc players).
In particular, following a rapid increase in blue-violet laser demand for use in devices such as Blu-ray Disc players and game consoles, Sony Shiroishi has established what it claims is an industry-leading monthly production capacity of 1.7 million blue-violet laser diodes (for external customers as well as for use in Sony products).
Furthermore, on the basis of future demand, Sony Shiroishi says it has already made preparations to increase capacity further by installing front-end wafer processing equipment capable of monthly production of 5 million blue-violet laser diodes (Blu-ray Disc playback-only equivalent). The firm says it will also strengthen its post-processing assembly capacity depending on future demand.
In addition, Sony Shiroishi is to offer an expand line-up of blue-violet laser diode products, targeting Blu-ray Disc applications. This month it started shipping lasers with an output power of 170mW for recording, to be joined in June by a 20mW laser for players, and in November by a higher-power 240mW laser for recorders.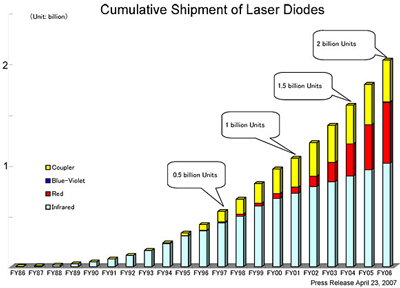 See related items:
Sharp to start volume production of 210mW blue-violet lasers for 6x recording on dual-layer Blu-ray and HD-DVDs
Sharp enters blue laser production
Nichia achieves 320mW pulsed operation of blue-violet laser diode
Article: The wide blue yonder
Visit: http://www.sony-shiroishi.co.jp