News
8 August 2007
Toshiba doubles brightness of white LEDs
Toshiba America Electronic Components Inc (TAEC) of Irvine, CA, USA has introduced a compact, high-efficiency white LED that provides twice the brightness of its previous version.
According to the company, the new TLWK1100B LED delivers luminous intensity levels of 1500 mcd from a drive current of 20mA (typical value). It is available in a standard PLCC2 surface-mount package that measures 3.2mm x 2.9mm x 1.9mm. Applications include: automotive lighting, LCD backlighting, panel indicators, and the replacement of incandescent bulbs in certain instances.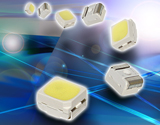 TAEC says that the TLWK1100B's performance comes from a combination of its blue InGaN LED and yellow-emitting phosphor. It operates with maximum power dissipation of 114mW and typical forward voltage (VF) of 3.2V. Operating temperature ranges from 40°C to 100°C.
Available now, samples of the TLWK1100B are priced at $0.60 each.
See related items:
Osram settles patent dispute as Citizen licenses white LED IP
Lumileds boosts Luxeon Rebel LED to 100lm
Avago launches 1W warm-white Moonstone power LED for solid-state lighting
Avago launches high-brightness warm-white through-hole LEDs for solid-state lighting
Lumination launches violet-chip-based warm-white LED for lighting applications
Nichia partners with Stanley on white LEDs
Nichia sues Seoul Semiconductor's Japanese subsidiary over white LEDs
Visit: http://www.toshiba.com/taec