Philips Lumileds of San Jose, CA, USA has launched its new cool-white Luxeon K2 with TFFC LED, the only LED designed, binned and tested for standard operation at 1000mA and capable of being driven at 1500mA, the firm claims.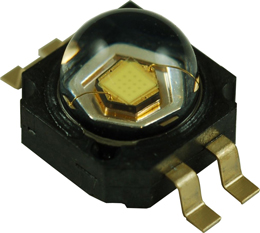 Thin Film Flip Chip (TFFC) technology contributes to improvements in overall light output, optical performance and thermal capability. Meanwhile, new packaging advances improve what is claimed to be already the industry's most rugged and capable package and deliver the lowest thermal resistance, 5.5°C/W, of any power LED. This allows it to be driven at higher currents, as well as lowering thermal management engineering effort and cost. Light output performance from a Luxeon K2 with TFFC part that has been binned and tested for 160 lumens minimum and a 1A drive current can easily exceed 220 lumens at higher drive currents, Lumileds says.
At its rated drive current, the LED operates at only 66% of its maximum power rating and delivers what is claimed to be unprecedented performance for a single 1mm² chip. More than two dozen LED drivers available from Future Lighting Solutions are already capable of providing drive currents of 1000mA and more, enabling engineers to take advantage of the LED's high drive capability.
Currently, most power LED manufacturers have introduced products at 350mA, but none of these devices can be driven reliably at higher currents without sacrificing lumen maintenance or causing junction temperature to exceed published maximum values, says Lumileds, and none can be operated at 1A for extended periods of time. Even when datasheets indicate typical values at higher drive currents, they are not achievable in actual applications, the firm claims.
In contrast, for applications like security lighting, roadway lighting, automotive lighting architainment or spot lighting, where maximum light and robustness are required while still delivering improved efficiency, the new LED's high drive current allows engineering of the most cost-effective solutions, considering all costs including the thermal management system, drive electronics, optics and LED count. The ability to increase current without increasing thermal management size or cost to the same degree ultimately results in a lower cost of light, says Lumileds.
"Customers are already making the move to 1000mA drive currents and higher to take advantage of higher light output and improved efficacies," says product manager Erik Milz. "Incorporating TFFC technology and package improvements gives us the best LED for the most demanding applications and environments such as automotive, signaling, general lighting and architectural applications," he adds. "Using a single chip allows for the smallest optical source size, making it easier to design optics such as reflectors, diffusers and lenses that are essential for most applications." The new LED is also compatible with much of the complementary infrastructure for electronics, optics and thermal solutions already in place for Luxeon K2 LEDs.
The Luxeon K2 with TFFC is currently available from Future Lighting Solutions (FLS) in cool-white form. Lumileds says it is also preparing for volume production of neutral-white and warm-white versions, to be followed by royal blue, blue, cyan and green types.
See related items:
LED makers report progress at ICNS
Cree reports record efficacy for power LEDs
Cree achieves 1000 lumens from single-die LED
Lumileds boosts Luxeon Rebel LED to 100lm
Avago launches 1W warm-white Moonstone power LED for solid-state lighting
Osram sampling 1000lm OSTAR LED for general lighting
Rebels with a solid-state-lighting cause
Search: Lumileds Cool white LED
Visit: www.philipslumileds.com
Visit:
www.futurelightingsolutions.com