News
24 September 2007
Seoul unveils 420 lumen LED
South Korea's biggest LED maker Seoul Semiconductor says that its R&D team has achieved what it claims is a record brightness for a single LED of 420 lumens (maximum) at 600mA (350lm on average). This compares with just 100lm for a conventional single LED of comparable size such as the Z-power P4 series.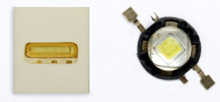 The higher brightness coupled with ultra-compact size (similar to that of single LED packages emitting 100lm ) gives greater design flexibility and substantially lowers the cost of application.
"The competition in the LED industry is heating up as customers increasingly demand brighter and smaller products," says Yanghee Han, VP of sales & marketing. The higher performance, compact architecture and cost advantages of the new technology enables the firm to open up new markets where conventional LEDs are excluded due to inherent performance limitations, he adds.
Seoul Semiconductor plans to commercialize the new product by fourth-quarter 2007.
See related items:
Cree reports record efficacy for power LEDs
Cree achieves 1000 lumens from single-die LED
Philips Lumileds claims white LED record of 115lm/Watt at 350mA
Nichia develops record 150lm/W white LED
Seoul Semiconductor claims record with 100 lm/W @ 350 mA P4 LED
Nichia reports white LEDs producing 138lm/W at 20mA; over 90lm/W at 350mA
Visit: www.seoulsemicon.com