News
24 December 2008
Latest issue of Semiconductor Today now available
For coverage of all the key business and technology developments in compound semiconductors and advanced silicon materials and devices over the last month, see the new issue of Semiconductor Today magazine.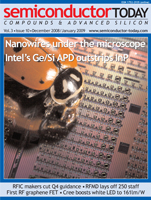 Published today and free of charge, Semiconductor Today's latest issue covers all that is new in gallium arsenide (GaAs), indium phosphide (InP), nitrides, silicon carbide (SiC), silicon germanium (SiGe) and other semiconductor materials. The magazine also covers the devices and applications that these materials enable.
Click issue cover for direct access.
Feature articles include: Probing hydrogen's impact on ZnO and Nanowire transistors, lasers and hetero-engineering
Plus, there's the news from organisations such as: , Aixtron, Anadigics, Avago, Aviza, AXT, Bookham, Concentrix, Cree, Cyoptics, Emcore, EV Group, Finisar, First Solar, Fujitsu, Gemfire, GigOptix, HRL, IQE, JDSU, Johanna Solar, Kopin, Lumera, Nichia, Oplink, OptoGaN, Osram, Oxford Instruments Plasma Technology, Peregrine, RFMD, Rubicon, Seoul Semiconductor, Sharp, Showa Denko, Skyworks, SolFocus, Syntune, TriQuint, Veeco, and much more.
Download Semiconductor Today's 2009 Media Kit (160KB)
See company profiles from Aixtron, AXT, EV Group, Goodfellow, IQE, Logitech, LPE, Oxford Instruments, SAFC Hitech, Veeco, and Wafer Technology.
Semiconductor Today is freely available to all. To learn more and to subscribe, visit: Subscribe for free.
Season's Greetings
We would like to take this opportunity to thank you for your support of Semiconductor Today in 2008. Without you, our readers, sponsors and business partners, Semiconductor Today would not be possible, and we never forget that. From all the team, Mark, Jon and myself, we wish you our very best for the holiday season, and every happiness and success in 2009.
A special thank you to all our sponsors: III/V Reclaim, Aixtron, AXT, ClassOne Equipment, Edwards - Temescal, ETC, Evatec, EV Group, Goodfellow, Insaco, IntelliEPI, Intelvac, IQE, Johnson Matthey, KLA-Tencor, Kulicke & Soffa, LayTec, Logitech, LPE, OI-TDI, Oxford Instruments, Power & Energy, Riber, Rohm & Haas, SAFC Hitech, Surface Technology Systems, Synova, Tango Systems, Tecdia, Tegal, Wafer Technology, WEP Control, and Veeco Instruments.