Japan's Sharp is introducing a new generation of blue-violet laser diodes with output boosted to 250mW, enabling recording on dual-layer Blu-ray discs at 4-6x speeds.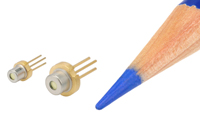 Maintaining the same 3.3mm diameter of its previous package, the new GH04P25A4G is intended for notebook drives. In addition, the new 5.6mm diameter GH04P25A2G is intended for PC drives.
The lasers are shipping now in sample quantities for ¥50,000 (about $462). Mass production should start in April, at a maximum monthly capacity of 700,000 units. Blu-ray drives featuring the new 250mW lasers should enter the market in second-half 2008.
See related items:
Nichia achieves 420mW pulsed operation of violet laser
First blue and first cw AlGaN-cladding-free blue-violet nonpolar InGaN/GaN lasers
Blue-laser-based optical disk drives to take 20–30% of ODD sales in 2010
Nichia to start mass producing 250mW blue-violet laser next January
Sony boosts blue-violet laser capacity to 1.7 million per month
Sharp to start volume production of 210mW blue-violet lasers for 6x recording on dual-layer Blu-ray and HD-DVDs
Search: Sharp Blue-violet laser diodes
Visit: www.sharp.co.jp