News
17 July 2008
BluGlass's plant opened by Australian Environment Minister
Australia's BluGlass Ltd says that it is ready to market its GaN-on-glass LED technology internationally after its new headquarters and pilot demonstration plant in Silverwater, Sydney were opened by Federal Minister for the Environment, Heritage and the Arts, The Hon Peter Garrett AM.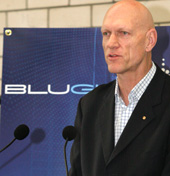 Picture: Australia's Federal Minister for the Environment, Heritage and the Arts Peter Garrett Speaking at the opening of BluGlass's headquarters and demonstration plant.
BluGlass was spun off from Macquarie University, New South Wales in mid-2005, demonstrated the world's first blue LED on a glass substrate in March 2007, and scaled this up from 4-inch to 6-inch wafers that June.
The new plant features BluGlass's first commercial-scale reactor fitted with its home-grown remote plasma chemical vapour deposition (RPCVD) technology, which was delivered ahead of schedule in mid-May after being built and jointly tested by BluGlass and equipment maker EMF Semiconductor Systems in Ireland. The firm plans to demonstrate the commercial capability of its technology to deliver cost benefits to LED makers and global lighting industry majors, with the aim of winning equipment supply contracts, licencing deals, and royalty income.
BluGlass is already in advanced discussions with universities for orders for its pilot-scale reactors (a smaller version of its commercial technology that also incorporates its RPCVD technology). The plan is that customers, including commercial enterprises and universities, can buy pilot reactors to conduct their own testing, speeding uptake of the patented technology.
"We will invite top-level corporations from Asia, the US and Europe to come and actually exactly see what we can do," said CEO Giles Bourne. "We have delivered on all of our promises to investors about commercializing our technology, and now we are now lifting our sales push in the global market."
"Our new demonstration reactor is designed to show the world that BluGlass has a commercially viable and attractive technology," commented chairman Dr Mike Taverner. "We expect that, among many applications, this ground-breaking Australian development will have an important global role in improving the efficiency with which we use energy in lighting, with flow-on benefits to the environment," he added.
"Yesterday the Government released its Green Paper on the Carbon Pollution Reduction Scheme to tackle climate change by reducing carbon pollution. Improving our energy efficiency, including through improved lighting, will be essential in reducing our greenhouse-gas emissions," said Garrett.
BluGlass says that t he global general lighting industry accepts that LEDs are the future of lighting devices in homes, offices and commercial facilities because they are up to five times more energy efficient than incandescent bulbs and last up to 50 times longer.
See related items:
BluGlass to open pilot manufacturing plant in July
EMF announces multiple MOCVD orders
BluGlass makes its first quantum well LEDs
BluGlass CEO Jordan steps down, but continues as advisor
BluGlass announces reactor sale, uniform large-area plasma generation, and Technical Advisory Committee
Visit: www.bluglass.com.au