News
28 November 2008
Latest issue of Semiconductor Today now available
For coverage of all the key business and technology developments in compound semiconductors and advanced silicon materials and devices over the last month, see the new issue of Semiconductor Today magazine.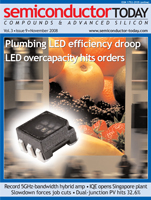 Published today and free of charge, Semiconductor Today's latest issue covers all that is new in gallium arsenide (GaAs), indium phosphide (InP), nitrides, silicon carbide (SiC), silicon germanium (SiGe) and other semiconductor materials. The magazine also covers the devices and applications that these materials enable.
Click issue cover for direct access.
Feature articles include: Solutions don't solve droop controversy
Plus, there's the news from organisations such as: Advanced Photonix, Aixtron, Alfalight, Anadigics, Avanex, AWR, Avago, AXT, Bookham, Cree, Emcore, EV Group, First Solar, FSI, Fujitsu, GeneSiC, Goldeneye, Hittite, Honda Soltec, Infinera, IQE, JDSU, JPSA, KLA-Tencor, Kopin, Lam, Modulight, Nichia, Oplink, Opnext, Osram, QPC Lasers, RFMD, Rubicon, SEI, Seoul Semiconductor, Skyworks, SolFocus, Tegal, TriQuint, UMS, Veeco, and much more.
Download Semiconductor Today's 2009 Media Kit (160KB)
See company profiles from Aixtron, AXT, EV Group, Goodfellow, IQE, Logitech, LPE, Oxford Instruments, SAFC Hitech, Veeco, and Wafer Technology.
Semiconductor Today is freely available to all. To learn more and to subscribe, visit: Subscribe for free.