News
1 October 2008
Sapphire substrate market to grow at 21% to $400m by 2012
The sapphire material market for electronic applications should grow at an average 21% of annually to $402m by 2012, according to the report 'Sapphire Market 2008' (€3990 from market research firm Yole Développement of Lyon, France).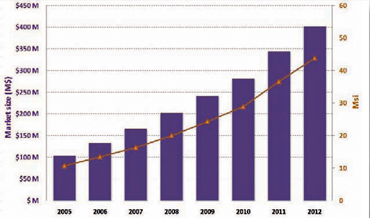 Figure 1 (above): Market size (million $) and surface (million inch²) of both c-plan and r-plan sapphire substrates to 2012.
In 2007, the market reached a unit volume of 4.61 million wafers (2-inch equivalent) for gallium nitride (GaN) based LEDs, boosted by several tens of thousands of 6-inch wafers for silicon-on-sapphire (SoS) RF switch devices in mobile phones.
For several years, nitride LEDs have been the main driver for the sapphire market, representing more than $100m in revenues in 2007, and are expected to rise at a compound annual growth rate (CAGR) of 15% to 2012.
But in addition, since 2006, SoS applications have ramped up tremendously, with Peregrine Semiconductor Corp of San Diego, CA, USA taking off and being the main driver of the SoS RF market. SoS Ultra-CMOS technology is gaining momentum in cell-phone applications, displacing established switch technologies such as PiN diodes and GaAs pHEMTs. Although revenue at the substrate level was less than $35m in 2007, it is expected to surpass $100m by 2011.
Despite the expected growth overall, sapphire sales for the LED market are suffering from huge pricing pressure in the main regions of Asia. With an LED die-on-wafer now selling at just 2-3 cents, LED makers are requesting sapphire substrates at as little as $17 for a 2-inch wafer. This has forced some sapphire suppliers to focus these regions to focus instead on countries in the west, where market prices are more attractive, says the report's author Philippe Roussel.
Nevertheless, demand for 4-inch wafers is currently booming, with recent announcements that some major LED makers such as Osram and Showa Denko are migrating some of their production to the larger-diameter substrate. In addition, in September Samsung announced plans for 6-inch nitride LED production, and Russia's Monocrystal has demonstrated 8-inch c-plane epi-ready sapphire wafers for LED manufacturing.
Asian suppliers (including Japan's Kyocera, Interoptec/Fujimi, Namiki, Shinkosha and Sumitomo Metal Fine Technology, as well as Taiwan's Crystal Wise, Tera Xtal Technology and Sino American Silicon, and China's Saifei) have captured about 67% of the sapphire market by revenue due to having five leading companies in the top ten. Europe accounts for 20% of revenues (due mainly to France's Saint-Gobain and Monocrystal) and North America about 13% (driven mainly by Rubicon).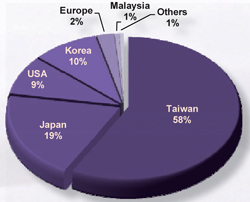 Sapphire for LED usage is concentrated in Asia, comprising more than 88% of sales. Taiwan alone represents 58% of demand, and Japan 19%.
Figure 2: Projection of 2008 regional usage (2" wafers / month) for sapphire substrates in GaN-based LED production.
Sapphire for SoS-based devices was originally located in Australia, but is now moving to Asia as Peregrine is becoming fabless and has agreed several deals with Korean fabs to outsource production.
Kyocera is still the biggest vendor worldwide, with 2007 sales of $100m for both electronics and optical materials. However, Namiki and Rubicon are challenging Kyocera in the top three.
Roussel notes that the sapphire market is very active, with mergers and acquisitions creating new entrants and some firms exiting the sector. Most recently, Monocrystal's parent company Energomera Group acquired Russian compatriot Atlas, placing the firm firmly in the top three suppliers, and in April Honeywell sold its Canadian sapphire manufacturing plant to China's SilianTech.
See related items:
Rubicon cuts 2008 sales guidance from $47-49m to $41.5-42.5m
Monocrystal launches 8" c-plane sapphire wafers for LEDs
Peregrine Semiconductor's UltraCMOS RFIC reaches milestone
Saint-Gobain acquires GaN substrate maker Lumilog
Energomera acquires sapphire substrate maker Atlas PCF
Compound semiconductor substrate market to top $1bn by 2009-2010
Search: Sapphire substrates GaN LEDs SoS Peregrine Monocrystal Rubicon
Visit: www.yole.fr