News
16 February 2010
Veeco's MBE business records fourth consecutive year of revenue growth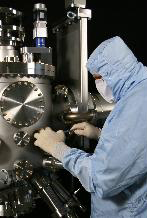 Veeco Instruments Inc's Molecular Beam Epitaxy (MBE) business announced that it had a strong close to 2009, resulting in a fourth consecutive year of revenue growth. The firm added that it is receiving worldwide recognition for its automated growth module cluster tool systems, including the recently introduced GEN10.
"We're energized that we had another strong year in our MBE business, despite the state of the worldwide economy," said Jim Northup, vice president and general manager, Veeco MBE. "As the number one manufacturer of MBE, we continue to take a leadership role advancing this important technology. Our successful introduction of the GEN10 for R&D applications last year is the most recent example of Veeco's technology leadership."
During Q4/2009, Texas Tech University purchased an automated GEN10 R&D system. "I am looking forward to utilizing the Veeco GEN10 to further advance our highly recognized GaN research. Veeco's components technology and proven nitride performance, along with the automation, were key factors in our decision," said the university's Professor Sergey Nikishin.
Veeco adds that the need for independent growth of multiple incompatible materials in a single system architecture has led to an increase in the ramp of orders of its enabling cluster tool systems. Orders over the last year position the GEN10 into all major applications for MBE, including those related to III-Vs, oxides and nitrides.
See related items:
Veeco's MOCVD revenue more than doubles sequentially
Orders ramp for Veeco's cluster tools after winning five MBE system orders in Q4
Veeco launches ultra-flexible automated R&D MBE system
Visit: www.veeco.com/mbe