Maker of RF power transistors Nitronex of Durham, NC, USA has appointed Doru Roll as its new director of RF product development.
Prior to joining Nitronex, Roll led the RF Power Amplifier Development Group at BAE Systems in Wayne, NJ, where he developed advanced PAs for military applications. Before BAE Systems, he managed Agere Systems' Applications Engineering team, working on LDMOS RF power devices. Earlier in his twenty-year career of designing and developing high power amplifiers, Roll spent ten years with Ericsson AMT, where he developed advanced circuit architectures for enhancing RF power amplifier linearity and efficiency. Roll holds several patents and has an MSEE and a BSEE, both attained from the Polytechnic University of New York.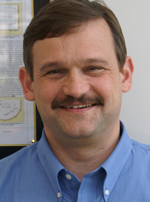 "Doru's extensive experience at the device, box and system level greatly enhances our capability to leverage our GaN-on-Si technology platform into products that bring value to our customers in the WiMAX, broadband and cellular markets," said Chris Rauh, VP sales and marketing for Nitronex.
Picture: Doru Roll appointed director of RF product development at Nitronex.
See related items:
Nitronex launches 100W GaN-on-Si HEMT power transistor for WiMAX
Nitronex adds Anadigics' CEO Bastani to board
Nitronex moving HQ to Durham, NC as part of expansion
Nitronex teams with Rockwell Collins to develop GaN-on-Si power transistor manufacturing for military use
Nitronex appoints RF design expert as MMIC product development manager
Visit: http://www.nitronex.com