News: Photovoltaics
2 April 2020
Fraunhofer ISE director Andreas Bett accepts professorship at University of Freiburg
Dr Andreas Bett, director of the Fraunhofer Institute for Solar Energy Systems ISE of Freiburg, Germany (a position he has held jointly with professor Hans-Martin Henning since 2017) has accepted the appointment as a W3 Professor of Solar Energy Materials and Technologies in the Faculty of Mathematics and Physics at the University of Freiburg. This appointment strengthens the close connection between Fraunhofer ISE and the University of Freiburg and brings the total number of Fraunhofer ISE researchers teaching at the University of Freiburg to 12, including now both institute directors and an additional colleague of Fraunhofer ISE with a professorship as well as numerous Fraunhofer ISE researchers with teaching positions.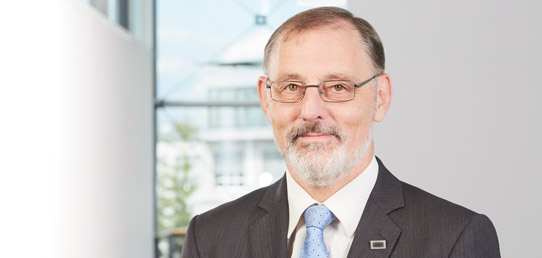 Picture: Dr Andreas Bett.
Bett received his doctoral degree from the University of Konstanz in 1992 and has been employed by the Fraunhofer ISE since 1986. In 1993 he became group head of III-V Epitaxy and Solar Cells and in 2007 he took the role of division director of Materials – Solar Cells and Technologies. In 2009, Andreas Bett and Hans-Martin Henning were appointed as deputy institute directors of the Fraunhofer ISE, and since 2017 they both share a dual leadership position as institute directors of Fraunhofer ISE.
Scientific focus
As a researcher in photovoltaics, one focus of Bett's work is solar cell material research, with the aim of reaching the highest solar cell efficiencies and thus advancing the efficiency, cost reduction and sustainability of photovoltaics.
The work at Fraunhofer ISE on multi-junction solar cells based on III-V semiconductor materials was driven largely by Bett and has led to record energy conversion efficiency of 46.1 % for this type of solar cell. In 2005 the concentrator technology based on such multi-junction solar cells found its way out of the laboratory with the founding of the spin-off company Concentrix Solar, of which Bett was a co-founder. Concentrix Solar later became Soitec Solar, which realized the first concentrator solar power plants in sun-rich regions of the world.
In 2015, Bett was co-founder of a second spin-off company called NexWafe, transferring a procedure, developed at Fraunhofer ISE for manufacturing silicon wafers based on an epitaxial deposition, up to industrial scale. This process enables the substrate to be reused, drastically reducing silicon material losses of about 40% that occur during wafer manufacturing for solar cell production.
Bett's research also contributes to the current work at Fraunhofer ISE on tandem solar cells. With monolithic multi-junction solar cells using silicon as a base cell, it is possible to surpass the theoretical efficiency limit of pure silicon solar cells that dominate the market today.
International networking and distinguishments
Bett represents Fraunhofer ISE in the Global Alliance of Solar Energy Research Institutes (GA-SERI), a cooperation of the world's leading institutions for solar energy research that also includes the USA's National Renewable Energy Lab (NREL) and Japan's National Institute of Advanced Industrial Science and Technology (AIST) as members.
Bett is also active in many scientific committees. He has received many awards and distinguishments for his research work. These include: the Joseph von Fraunhofer Prize (2010); the Becquerel Prize (2009), a European Commission award for excellent achievements in photovoltaics; as well as the German Environmental Prize (2012) for his efforts and success in the industrialization of concentrator photovoltaics.
Tags: Fraunhofer ISE III-V multi-junction solar cells CPV
Visit: www.ise.fraun hofer.de