News: LEDs
28 April 2020
Demand for disease prevention products causes shortage across UV-C LED supply chain
The rapid spread of the COVID-19 coronavirus has generated a corresponding boom in the disease-prevention business, according to the report '2020 Deep UV LED Application Market and Branding Strategies' by the LEDinside research division of TrendForce.
As a case in point, the demand for UV-C LEDs (with wavelengths ≦280nm), which have disinfection/sterilization properties, has rocketed since the Chinese Lunar New Year, in turn causing massive shortages across the entire supply chain.
Given the extreme shortage of UV-C LED chips, LED package suppliers looking to place orders for these chips need to exercise caution when setting chip specifications; these suppliers may also need to bear the risk of possible chip shortages, notes LEDinside. The current shortage in the UV-C LED market has led to an adjustment to UV-C LED chip quotes, in turn resulting in purchasers being unable to procure chips even with high bid prices.
Some UV-C LED suppliers are already seeing order fulfillment schedules that will last till August, says TrendForce research manager Joanne Wu. In addition, owing to increased orders for UV-C LEDs, several suppliers are expected to see double-digit year-on-year growth in their UV-C LED revenue this year, in particular those that have maintained UV-C LED chip and package operations for many years, including Seoul Viosys, Asahi Kasei (Crystal IS), Stanley, Bioraytron (a joint venture between Epileds and HPLighting) and San'an Optoelectronics. UV-C LED chip suppliers primarily include San'an Optoelectronics, Photon Wave, Opto Tech, and Epileds.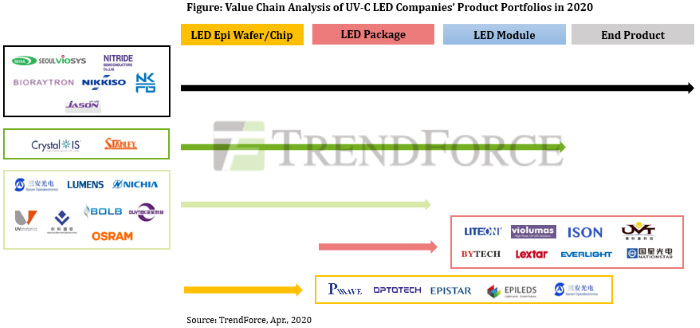 Whereas UV-C LED suppliers have historically relied on increased efficiency and competitive prices to receive branding contracts, the coronavirus pandemic in 2020 has compelled brands and consumers alike to place a high priority on disinfection. Demand for UV-C LEDs has extended from China to the USA, Europe and Japan, culminating in peak market demand. TrendForce therefore estimates that UV-C LED packaging market revenue is rising at a compound annual growth rate (CAGR) of 60% during 2019-2024.
In response to the increased demand for disease prevention measures, brand vendors have released a host of UV-C LED products, including disinfection bags, disinfection boxes, maternity products, UV torchlights, and portable disinfection/sterilization products.
UV-C LED makers have been committed to developing the field of home appliance brands for many years. As UV-C LED technology becomes more mature and is more accepted by big brands, UV-C LEDs are eventually entering a period of booming in growth 2020, says LEDinside. Major UV-C LED suppliers for the home appliance market include Seoul Viosys, Bioraytron, Lite-on and San'an Optoelectronics.
TrendForce also expects UV-C LED to see widespread use in commercial applications such as air conditioning, surface sterilization, and water sterilization. UV-C LED suppliers for these applications include Seoul Viosys, Asahi Kasei (Crystal IS), Stanley, Violumas, San'an Optoelectronics and Nichia.
In addition, the passenger car market is planning to adopt UV-C LED products as well, in the form of devices for external use and disinfection modules integrated into air conditioners.
All of the aforementioned applications are expected to yield steady demand in the UV-C LED market.
Tags: LED Market UV LEDs
Visit: www.ledinside.com