News: Markets
12 August 2020
LED smart street-light revenue growing at 8.2% CAGR to over $1bn by 2024
The global LED smart street-light market (which includes only luminaires and single lighting control systems) is rising at a compound annual growth rate (CAGR) of 8.2% from 2019 to US$1.094 in 2024, forecasts TrendForce in its latest investigations.
LED lighting manufacturers such as Signify, Acuity Brands, Zumtobel, Leotek (a subsidiary of Lite-On Group) and Unilumin have each released new outdoor smart lighting products and integrated smart lighting solutions, which are likely to raise the penetration rate of smart LED street lights. However, downstream LED lighting demand is highly correlated with the state of the overall economy, notes TrendForce.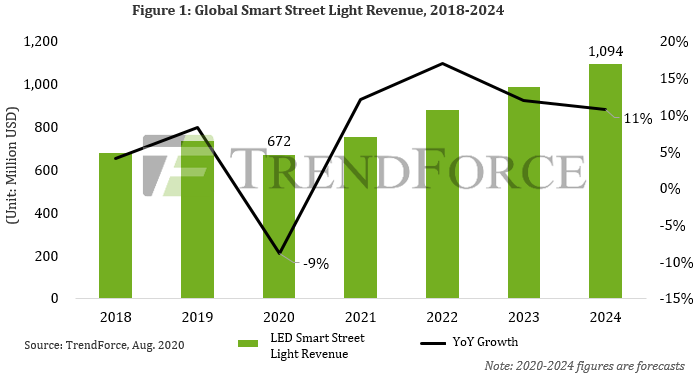 Various governments have attempted to alleviate the industrial impacts of the COVID-19 pandemic through fiscal policies, smart-city construction, and new infrastructure investments, notes analyst Christine Liu. Of these governmental efforts, roadside infrastructure investments in China and North America are the largest in terms of scale. Data from the US Census Bureau shows that the US government had invested $42.9bn in roadside infrastructure as of June 2020. This effort to stimulate the economy via governmental spending is expected to bring about growth in demand for outdoor LED street lights.
Chinese firms the primary drivers of smart street-light development, as Huawei and Tencent dominate
Generally speaking, smart light poles fulfill six essential functions: intelligent lighting, information dissemination, security surveillance/monitoring, environmental detection, charging station, and small-scale 5G base station. Smart lighting products ranging from modular LED lamp heads to single light controllers are essential components for fulfilling these six functions. TrendForce's cost analysis of smart street-light construction projects finds that the average selling price (ASP) of the highest spec'd smart street poles is $6997.90, with 2.6% of it stemming from smart lighting equipment ASP, which stands at $182.5.
Although China is the primary driver of global smart street-light development, large-scale city-level projects in China are both expensive and time-consuming, mostly due to the country's substantial landmass as well as the large discrepancies in various local governments' demands. Furthermore, municipal governments generally tend to outsource smart street-light projects to private corporations with sufficient resources, who may not necessarily be well-versed in smart street-light equipment design and manufacturing and therefore must collaborate with other partners to complete these projects. On the other hand, as smart street-light projects involve IoT and telecommunications, LED lighting manufacturers must collaborate with major tech companies in carrying out these projects. As such, companies with strong resource integration capabilities, such as Huawei and Tencent, are expected to take the major share of smart street-light projects in China.
TrendForce believes that more and more commercial opportunities can be found the further downstream one looks in the smart street-light supply chain. To enter the existing supply chain, LED lighting manufacturers must add more value to their existing competitive advantages by strengthening their ability to service systems, streamlining their LED lighting portfolios, and raising their overall quality of service. At the same time, governments need to institute crystal-clear standards regarding smart street lights and draw a comprehensive smart-city blueprint, ensuring the healthy development of the LED smart street-light industry going forward, TrendForce concludes.
Tags: Lighting market
Visit: www.trendforce.com