News: LEDs
8 December 2020
Seoul Viosys' Violeds technology used for handrail sterilization
Ultraviolet LED product maker Seoul Viosys Co Ltd (a subsidiary of South Korean LED maker Seoul Semiconductor Co Ltd) says that its Violeds technology has been applied to an escalator handrail sterilization solution that is being supplied to global escalator and elevator OEMs by EHC Global Inc, a Canadian-based manufacturer of integrated solutions for the vertical transportation industry.
Providing disinfection on the surface of handrails using UV LED light, it is designed to match the speed, area and distance of the handrail to disinfect 99.9% of harmful viruses and bacteria in the areas exposed to the light.
EHC's handrail sterilization solutions with Violeds technology have already been installed on escalators and moving walks around the world in a wide range of environments including airports, public transit systems, commercial buildings, shopping malls, department stores, healthcare facilities, sports venues, museums and government buildings. EHC recently supplied Violeds technology applied escalator handrails to Ted Stevens Anchorage International Airport in Alaska in the USA and James Armstrong Richardson International Airport in Winnipeg, Canada.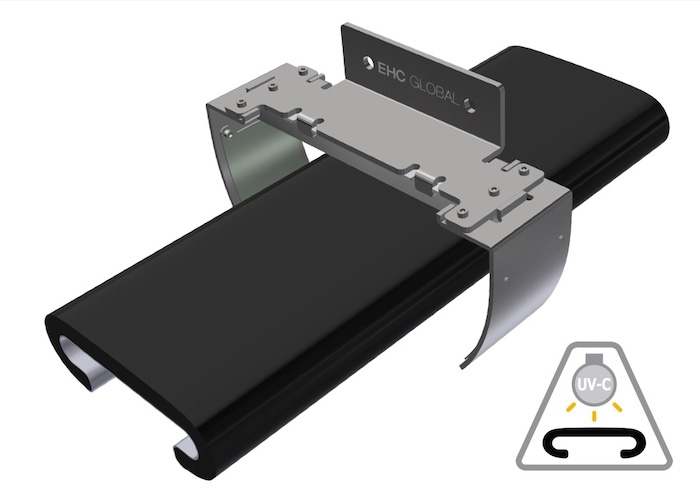 "In response to the growing demand for vertical transportation solutions incorporating clean, antibacterial and disinfection technologies, EHC has implemented the Violeds UVC disinfection module by Seoul Viosys," says EHC Global's VP of sales Patrick Bothwell. "Thousands of installations have already been completed and we anticipate continued demand in 2021 and beyond."
"As the COVID-19 pandemic continues, interest in the prevention of multi-use facilities is greatly increasing," says Seoul Viosys. Violeds has been proven to disinfect 99.9% of new coronavirus, for elevators and escalators in public facilities such as airports, hospitals, shopping malls, sports stadiums, and even in air conditioning systems, the firm adds.
Violeds technology has been adopted for 2021 models by the world's top three brands of electrical goods such as refrigerators, drying machines and washing machines, and Violeds products are in mass production.
Seoul Viosys mass producing Violeds module to sterilize Coronavirus
Tags: Seoul Semiconductor UV LEDs
Visit: www.seoulviosys.com