News: Suppliers
17 January 2020
LayTec's EpiTT FaceT chosen by high-power laser maker for yield improvement
In-situ metrology system maker LayTec AG of Berlin, Germany notes that it has been demonstrated for edge-emitting gallium arsenide (GaAs)-based lasers that the threshold for catastrophic optical mirror damage at the laser facets can be improved to levels higher even than the bulk damage threshold by zinc seenide (ZnSe) facet passivation in molecular beam expitaxy (MBE) (Zhang Q. et al, 'Nature Sci. Rep. 6', 19011; doi: 10.1038/srep19011 (2016)).
However, for high-yield processes of facet plasma cleaning and passivation with ZnSe in MBE it is vital to keep the temperature of the GaAs laser facets at a highly stable and accurate set-point. This has been a challenge for many years because the radiative transfer from the MBE heater to the multi-laser stacks is subject to several parameters that are not easy to control (such as the thermal contact resistance between the laser stacks and their fixtures, the absorption coefficient of fixtures and carriers that varies with their lifetime, etc).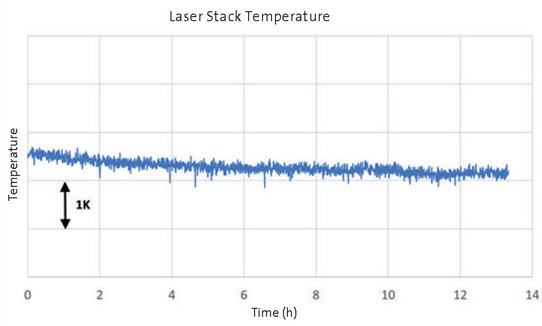 Figure: Long-term stability of EpiTT FaceT's temperature reading of a selected single stack of lasers in a commercial production MBE for ZnSe facet passivation.
LayTec's EpiTT FaceT is a temperature metrology system designed specifically for improving the yield of the facet coating process in the temperature range between 150°C and 400°C. The firm says that a major supplier of industry-class high-power lasers has recently acquired an EpiTT FaceT for MBE facet coating in the mass production of multi-laser stacks. The Figure shows the long-term stability and low noise of the EpiTT FaceT's temperature reading of a selected single stack of lasers out of a set of laser stacks. The multiple stacks of lasers were mounted in fixtures on a carrier device in the MBE chamber under conditions identical to the real production process.
Visit: www.laytec.de