News: LEDs
20 January 2020
Lumileds appoints auto industry veteran Matt Roney to lead Automotive business unit
Lumileds LLC of San Jose, CA, USA has recruited Matt Roney as president of its Automotive business unit, based at the firm's Farmington Hills office.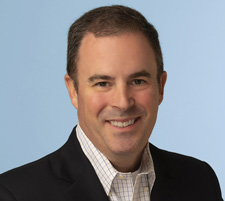 Picture: Matt Roney, new president of Lumileds' Automotive business unit.
Roney joins Lumileds from Stanley Infrastructure (a division of Stanley Black & Decker), where he was chief operating officer. He has extensive experience in both private equity companies and the automotive industry. Prior to its acquisition by Stanley, Roney was president of Paladin Attachments (backed by private equity firm KPS Capital Partners). Before that, he was the VP & general manager of the Global Steering Business at TRW Automotive (a $2.5bn global manufacturer of electronic and hydraulic steering systems). Roney has a BS in Electrical Engineering from Cornell University, an MSE in Mechanical Engineering from Purdue, and an MBA from Harvard Business School.
"His track record of success in the automotive industry and experience in private equity will help Lumileds continue to grow in the critical markets of automotive lighting and sensors," comments Lumileds CEO Jon Rich.
At Lumileds, Roney succeeds Mircea Buzgar-Nazare, who becomes the firm's first senior VP for business transformation (in the newly created Business Transformation Group), responsible for optimizing the asset and cost structure of Lumileds and leading its mergers and acquisitions activities.
"I am grateful to Mircea for his long tenure of leadership at Lumileds and look forward to working closely with him in his new role," says Rich.
Tags: Lumileds
Visit: www.lumileds.com