News: LEDs
6 January 2020
Osram and Rinspeed unveil mobility technologies at CES in MetroSnap concept vehicle
Osram GmbH of Munich, Germany says that it is the exclusive lighting supplier for MetroSnap, the latest concept vehicle from Switzerland-based creative think-tank Rinspeed, being unveiled in Osram's booth 8516 at the 2020 Consumer Electronics Show (CES) in Las Vegas (7–10 January). This is the fourth consecutive year that Osram has supported the Rinspeed concept vehicle with automotive lighting and sensing applications.
The electric MetroSnap vehicle has a unique swapping system that allows its chassis, known as a 'skateboard', to connect to two different body types or 'pods'.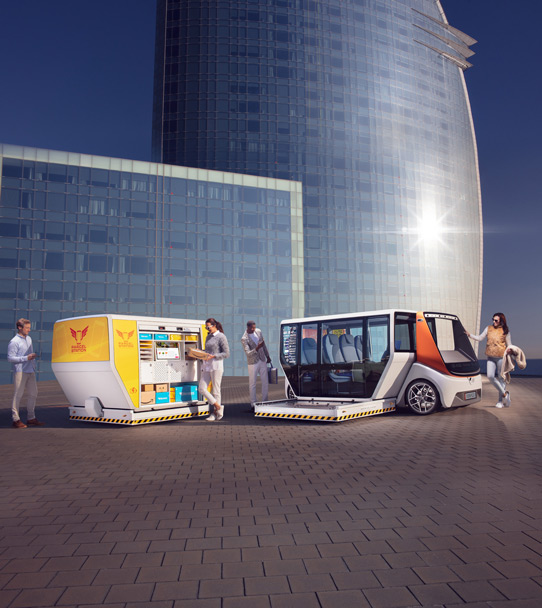 Picture: Rinspeed's MetroSnap includes Osram components for lighting and sensing applications in and around the vehicle. Picture: Rinspeed.
MetroSnap features Osram components for lighting and sensing applications in and around the vehicle for the functions of mobility, safety and security, connection, and health and well-being. These use dynamic and human-centric lighting, as well as biomonitoring and biometric applications enabled by infrared light sources.
"Lighting will increasingly be at the center of the driving experience and Osram's technologies will help usher in a new automotive future where cars are more than just a means of transportation, but also a place to relax, rejuvenate and work," says Wolfgang Lex, VP & general manager of Automotive at Osram Opto Semiconductors GmbH of Regensburg, Germany.
On the exterior of MetroSnap, Osram provided the following:
Eviyos, which features thousands of individually addressable pixels that project valuable information and warning symbols on the road for passengers and pedestrians.
Light detection and ranging (LiDAR) technology, which helps orient MetroSnap on the road using infrared laser pulses. Once a light pulse hits an object, it is registered by a sensor and the vehicle calculates the distance from the light to the object, then initiates appropriate actions such as braking.
Intelligent display systems on the front and back of the vehicle, and even on windows, which allow for visual communications with other road users. LED license plates serve as supporting human-machine interfaces and provide further possibilities for individualized driving experiences.
Inside MetroSnap, Osram has provided the following:
3D facial recognition and palm recognition systems. These technologies ensure that only approved individuals can ride in the vehicle, while also allowing the vehicle to adapt to the personalized settings of those riders.
Intelligent ambient lighting and human-centric lighting, specifically designed to make the ride more enjoyable and deliver critical safety features. With the advent of autonomous driving, the interiors of vehicles will be more than simply a cabin, they will be living spaces for work, play and relaxation, it is reckoned. Osram's ambient lighting solutions, such as the Osire family of iRGB LEDs, will adjust to brightness and temperature preferences of passengers, as well as include human-centric lighting features that adapt interior lighting to suit their moods. Special reading lights ensure dynamic and optimum illumination of the vehicle's reading area.
In-cabin monitoring, which uses vertical-cavity surface-emitting laser (VCSEL) technology to scan MetroSnap's cabin for forgotten objects and notifies passengers if something is left behind.
Osram LEDs and lasers increase safety and enable customizable interiors in Rinspeed microSNAP vehicle
Tags: Osram Automotive LED lighting
Visit: www.ces.tech
Visit: www.osram.com