News: Photovoltaics
27 January 2020
Singulus receives €50m order from CNBM subsidiary for CIGS solar module production systems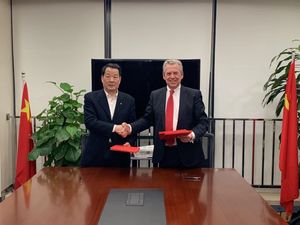 Singulus Technologies AG of Kahl am Main, Germany (which makes production equipment for the optical disc and solar sectors) says that its customer Bengbu Design and Research Institute of Glass Industry Co Ltd, a subsidiary of Beijing-based China National Building Materials (CNBM), has placed a large order, worth €50m in the first stage of expansion, for the delivery of copper indium gallium diselenide (CIGS) solar module production systems to its site in Xuzhou.
Picture: CNBM's executive director Peng Shou and Singulus' CEO Dr Stefan Rinck after signing the order.
CNBM acquired a minority 16.8% stake in Singulus in January 2018. "CNBM is continuing to expand CIGS technology in China as planned and is by far the largest manufacturer of CIGS solar modules," notes Singulus' chairman Dr Stefan Rinck.
The planned final output of the Xuzhou factory is 300MW, to be achieved in a second expansion stage.
Singulus' latest €10m CIGS production equipment order prepayment takes 2018 total to over €40m, boosting order backlog above €130m
China National Building Materials acquires minority stake in Singulus
Tags: CIGS Thin-film PV Singulus
Visit: www.singulus.de
Visit: www.cnbm.com.cn/EN