News: Markets
15 July 2020
GaAs RF revenue to fall 3.8% in 2020 due to US-China trade war and COVID-19
RF front-end component integrated device manufacturer (IDM) and foundry revenues will be affected under the dual influences of the COVID-19 pandemic and the Chinese government's policy of decoupling from the USA, driven by the ever-intensifying US-China trade war that began in 2019, according to TrendForce. Reduced demand for telecoms end-devices in 2020 is also expected to lead to a bearish market for gallium arsenide (GaAs) RF front end as well. GaAs RF front end revenue is therefore projected to fall by 3.8% year-on-year to US$5.793bn for 2020.
RF front-end components can be classified according to their applications in various telecom devices, including power amplifiers (PAs), low-noise amplifiers (LNAs) and filters, notes analyst John Wang. Of the above applications, GaAs is particularly suitable for use in PA components because of its high temperature resistance, high usable frequency range, and low noise operating at high frequencies. Furthermore, the number of PA components used in smartphones has increased along with the jump in cellular frequencies. For instance, 4G smartphones contain on average of 5-7 PA parts per unit, while 5G smartphones contain 10-14 parts.
Despite continued US-China trade war, 5G to drive RF recovery in 2021
Given the ever-intensifying US-China trade war (in which the US government increased tariffs on Chinese goods imported into the USA), the Chinese government has attempted to respond by instituting a policy of decoupling from the USA and by importing goods and services from other countries instead. Nonetheless, China still depends on US-based IDMs for PA components and RF modules due to its insufficient R&D competencies for RF front-end components. Although the trade war has reduced the revenues of US-based IDMs earned from Chinese clients, the fact that Chinese smartphone makers must import some products from these IDMs means that US-based IDMs were able to maintain their bottom lines to a certain extent. In first-quarter 2020, Qorvo's revenue grew by 15.7% year-on-year to $788m, while Skyworks' revenue fell by only 5.5% year-on-year to $766m.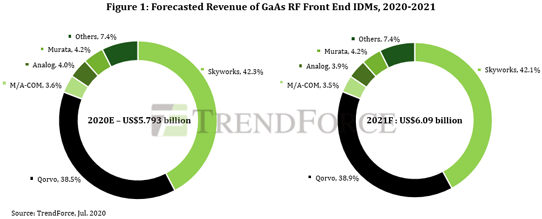 Overall GaAs foundry revenue was likewise disrupted by the US-China trade war in first-half 2019. In second-half 2019 however, under the influence of China's decoupling from US goods and services, Chinese IC design companies decided to purchase directly from Taiwan's WIN Semiconductor Corp and Advanced Wireless Semiconductor Company (AWSC). In first-quarter 2020, WIN's revenue grew by 67.8% year-on-year to $201m, while AWSC's revenue also rose by 162.6% to $27m. On the other hand, the performance of Global Communication Semiconductors (GCS) was relatively mediocre, with revenue falling by 2.8% year-on-year to $12m in Q1/2020, since operations at its primary fab, in California, were affected by the pandemic.
TrendForce expects the revenues of major RF front-end IDMs to potentially rebound from rock bottom in 2021, as the global build-out of 5G base stations accelerates, and 5G handsets account for an increasing share of smartphone makers' annual production. At the same time, some foundries are also likely to benefit from these circumstances, with overall GaAs foundry revenue expected to rebound too.
Tags: GaAs RF market
Visit: www.trendforce.com