News: Markets
24 June 2020
Infrared LED market to double from $500m to $1bn by 2026
The infrared LED market will grow from more than $500m currently to over $1bn by 2026, driven by ongoing technological advances, high demand from automotive sector, and rising adoption of CCTV and surveillance cameras across the industrial sector, forecasts a report from Global Market Insights Inc.
Infrared LEDs are used in cameras, remote controls for televisions, as well as in several types of electronic devices. Since infrared LEDs are used in combination with different types of sensors, these are now becoming common to Internet of Things (IoT) applications as well as M2M (machine-to-machine) environments as well. Other applications include smoke detectors, transmission systems, infrared applied systems, optoelectronic switches, industrial equipment and infrared remote-control devices.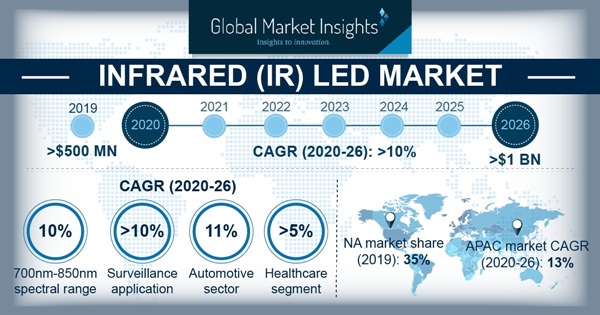 Based on spectral range, the IR LED market is classified into 1020-1720nm, 950-1020nm, 850-950nm and 700-850nm. Among these, the market share for the 1020-1720nm spectral range was over 5% in 2019 due to growing adoption in high-power applications such as surveillance, security and biomedical.
In terms of application, the market is categorized into lighting, surveillance, biometrics, remote sensing, and imaging. Among these, remote sensing held a market share of about 10% in 2019 due to the growing adoption of IR LED lightning systems in automotive applications.
With respect to end-use, the infrared LED market is bifurcated into consumer electronics, retail, aerospace & defense, healthcare, automotive, industrial, BFSI (banking, financial services and insurance) and education. The industrial end-use segment held a market share of over 15% in 2019 due to the growing adoption of CCTV and surveillance cameras in manufacturing process.
From a regional frame of reference, the Middle East & Africa market saw a growth rate of nearly 10% in 2019 due to high investment in infrastructure and the commercial sector, the report concludes.
Tags: LED market IR LED
Visit: www.gminsights.com/industry-analysis/infrared-ir-led-market