News: Microelectronics
26 March 2020
Infineon adds D
2

PAK real 2-pin packages to CoolSiC Schottky diode family

Infineon Technologies AG of Munich, Germany has expanded its silicon carbide CoolSiC Schottky diode 1200V portfolio by adding six devices in D2PAK real 2-pin packages.

Using SMD packages, designs can be more compact and more cost effective. Moreover, the new D2PAK real 2-pin package eliminates the middle pin to offer 4.7mm creepage and 4.4mm clearance distance. Compared with a standard D2PAK package this enhances safety margins. The diodes are a suitable fit for applications such as industrial power supplies, and DC charging stations, uninterruptable power supplies (UPS) and solar string inverters.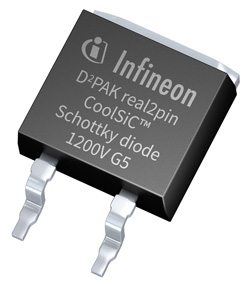 Picture: The new 1200V CoolSiC Schottky diode in a D2PAK real 2-pin package.
The new devices use Infineon's CoolSiC Schottky diode 1200V technology G5, which offers what is claimed to be best-in-class forward voltage and high surge current capability. Additionally, it prevents reverse recovery losses and allows for temperature-independent switching behavior. These features can streamline designs with lower cooling requirements and smaller magnetics when used at higher switching frequency.
Available for order now, the CoolSiC Schottky diodes 1200V G5 are rated from 2A to 20A and represent what is claimed to be the industry's broadest portfolio in a D2PAK real 2-pin package.
By using the new SiC diodes in the D2PAK real 2-pin package, designers are able to reach a new level of power density and reliability compared with silicon solutions, says the firm. Combined with other Infineon products, such as CoolSiC MOSFETs 1200V or TRENCHSTOP 1200V IGBT6 and EiceDRIVER gate driver ICs, the new portfolio offers a complete solution for high-efficiency designs.
Tags: Infineon SiC Schottky barrier diodes
Visit: www.infineon.com/coolsic