News: LEDs
10 March 2020
Plessey extends Data-Vµ micro-LED product family with passive-matrix micro-display
UK-based Plessey, which develops embedded micro-LED technology for augmented-reality and mixed-reality (AR/MR) display applications, has added passive-matrix micro-LED displays to its Data-Vµ product family.
Following the launch of its Data-Vµ segmented micro-LED display products in 2019, Plessey has now extended the range with the introduction of passive-matrix pixelized micro-LED displays, based on the firm's proprietary monolithic gallium nitride on silicon (GaN-on-Si) technology.
These fully addressable micro-displays can provide the high-brightness/low-power image source demanded by the advanced compact optical projectors embedded in AR/MR information systems. The displays can be customized to provide the specific resolution and color that customers require to present their dynamic content specific to their applications. These applications can take advantage of the high brightness and contrast inherent in Plessey's micro-LED technology to produce visual images that can be viewed under a wide range of environmental conditions and at low power consumption.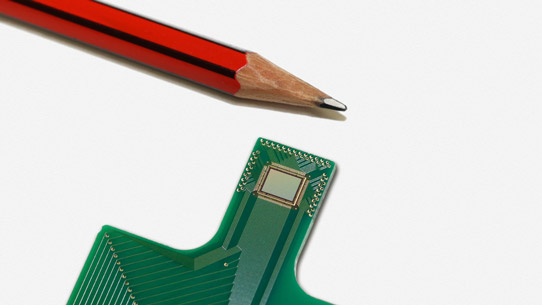 Plessey has demonstrated its first monochrome passive-matrix micro-LED display with a resolution of 48 x 36 monochrome pixels using its native technology capability and a new pixel architecture that improves light extraction. The roadmap for this platform includes the development of higher-resolution displays up to 128 RGB x 128 (or 384 x 128 monochrome) by the end of 2020.
"Micro-LED displays are now the go-to technology for next-generation developments requiring power-efficient and ultra-bright displays," says senior micro-LED product sales manager Leon Baruah. "With the introduction of our Data-Vµ passive-matrix displays, applications where dynamic content needs to be displayed in a small form factor that is outdoor readable without compromising on battery life have become reality."
The Data-Vµ passive-matrix displays are designed to be driven from a driver IC, requiring no active-matrix backplane. The drive architecture, along with its small form factor, makes the Data-Vµ passive-matrix displays a suitable and cost-effective solution for AR smart glasses and head-mounted displays for navigation, sport & leisure, wearables and optical instruments where dynamic content can be displayed, reckons Plessey.
Tags: Plessey GaN-on-Si microLED