News: Microelectronics
14 May 2020
VisIC partners with ZF to develop EV inverters
VisIC Technologies Ltd of Nes Ziona, Israel – a fabless developer of power conversion devices based on gallium nitride (GaN) metal-insulator-semiconductor high-electron-mobility transistors (MISHEMTs) for automotive, data-center and industrial applications – has partnered with Germany-based global automotive supplier ZF Friedrichshafen AG to create next-generation, high-performance and high-efficiency electric drivelines for vehicles.
The partnership will see the two firms deepen their development efforts, based on VisIC's D3GaN technology. The focus of the joint effort will be on 400V driveline applications, covering the largest segment of the electric vehicle (EV) market.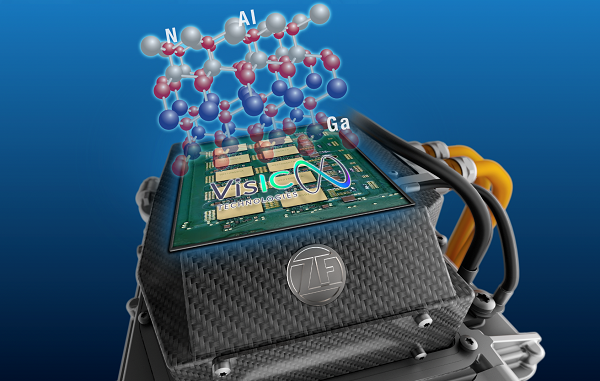 "Our partnership with ZF for the development of GaN-based power inverters in electric vehicles illustrates the breakthrough of gallium nitride technology in the automotive industry," says VisIC's CEO Tamara Baksht. "VisIC's D3GaN technology was developed for the high-reliability standards of the automotive industry and offers the lowest losses per RDS(on)," she claims. "It also simplifies the system solution and enables high-efficiency and affordable power train solutions."
ZF's adoption of wide-bandgap semiconductor technology, such as silicon carbide and gallium nitride, has enabled it to develop cost-effective and highly efficient electric drivelines. Through their extended R&D partnership, ZF and VisIC are deepening their existing joint efforts in the application of gallium nitride for inverters.
For electric vehicles (from hybrid up to full electric), gallium nitride technology offers significantly better switching speed, range improvements as well as smaller and lighter package size, reducing total system cost. "We are pleased about the cooperation with VisIC and are convinced that, together, we can further improve future electric drive systems based on gallium nitride technology," says Dr Dirk Walliser, senior VP corporate R&D at ZF.
VisIC launches 100kW motor inverter reference design for 800V power-bus based on D3GaN
Tags: GaN-on-Si power transistor
Visit: www.visic-tech.com