News: LEDs
24 November 2020
Porotech launches first native red InGaN LED epiwafer for micro-LEDs
Gallium nitride (GaN) material technology developer Porotech (a spin-out from the Cambridge Centre for Gallium Nitride at the UK's University of Cambridge) has announced the launch of its first product, which is reckoned to be the first commercial native red indium gallium nitride (InGaN) LED epiwafer for micro-LED applications.
Micro-LED display technology offers a huge improvement on standard display panels due to its optimum brightness, efficiency and image definition, as well as improved lifetime. These benefits are crucial for near-to-eye applications such as augmented reality (AR) and head-mounted displays – a market predicted to be worth tens of billions of dollars over the next five years. They are also key for a range of other applications – from large-area displays and TVs to mobile phones and wearable devices such as smartwatches. But, until now, achieving the necessary high-efficiency, ultra-fine-pitch red pixels has been a challenge.
Traditional red LEDs are largely based on aluminium indium gallium phosphide (AlInGaP) materials. So, they show a drastic efficiency drop as the device size decreases due to their large carrier diffusion lengths and high surface recombination velocity.
Porotech says that its unique production process has enabled the creation of a new class of porous GaN semiconductor materials and structures that provide enhanced functionality. Porous GaN could be regarded as a semiconductor composite of solid GaN and air. It enables Porotech to engineer a wide range of material properties (optical, mechanical, thermal and electrical) and consequently offers an entirely new material platform for semiconductor devices to be built upon.
"Micro-LED displays using GaN-based material technology are widely seen as the only technology that can deliver displays bright and efficient enough to meet the requirements of AR," says CEO & co-founder Dr Tongtong Zhu. "With AR glasses expected to one day replace smartphones – or at least reduce our interaction with the devices in our pockets – development of advanced materials to improve performance is crucial," he adds.
"Integration of AlInGaP red and indium InGaN green and blue LED displays in a module with micron-scale pixels is extremely challenging as high surface recombination velocities in AlInGaP devices make this material unsuitable for efficient micro-LEDs. Our breakthrough extends the emission range of InGaN LEDs to meet the performance needs of the red display, whilst delivering the ability to scale wafer size, required by micro-LED semiconductor display technology."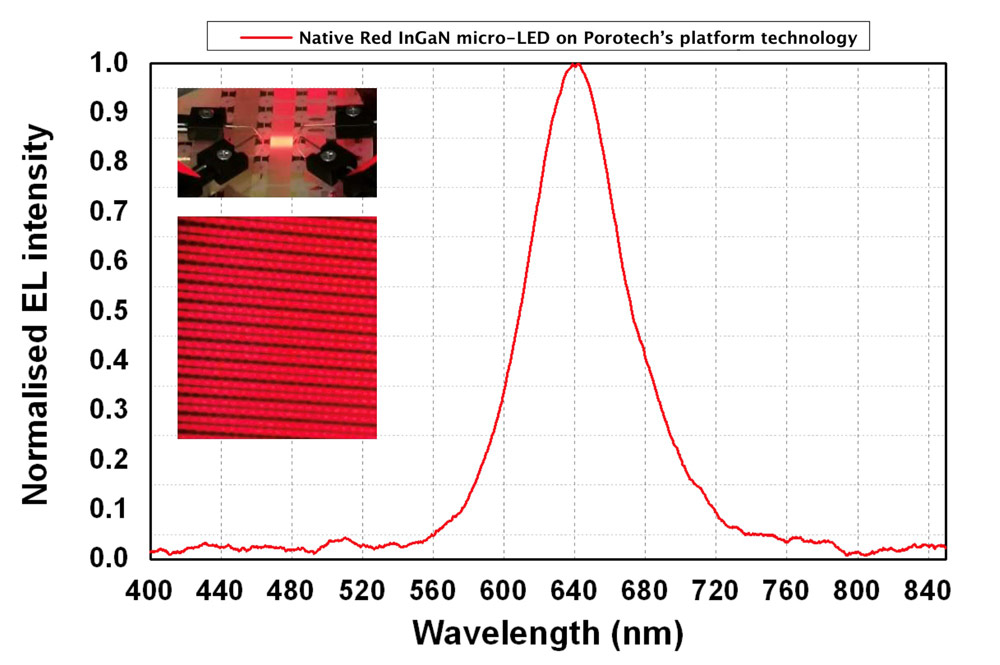 GaN is applicable across electronics and optoelectronics – from efficient power transistors and lasers to quantum devices, sensors and solar cells – and the introduction of porous architectures can extend its capability in all these realms, reckons Porotech. The firm says that it's product fits within existing industry standards and processes. The proprietary technology is robust but also flexible enough to be tailored to the needs of different applications. The native red InGaN micro-LEDs have a wavelength of 640nm at a current density of 10A/cm2, as well as improved performance over conventional AlInGaP and colour-converted red LEDs at very small pixels and pitches.
Earlier this year, Porotech secured a £1.5m seed round investment co-led by Cambridge Enterprise (the commercialization arm of the University of Cambridge) and IQ Capital Partners, with the additional participation of Martlet Capital and a syndicate of angel investors from Cambridge Angels and Cambridge Capital Group.
Porous GaN firm Porotech completes £1.5m seed round
Tags: The Cambridge Centre for Gallium Nitride
Visit: www.porotech.co.uk