News: LEDs
17 November 2020
Seoul Semi obtains injunctions against Philips brand lighting affiliates
South Korean LED maker Seoul Semiconductor Co Ltd says that the German District Court of Düsseldorf has issued two permanent injunctions against certain cell-phone and lighting products affiliated with Philips brand lighting.
The court ordered a permanent injunction against lighting products manufactured by Klite Lighting, a subsidiary of Signify (formerly Philips Lighting), and a recall of those products sold after March 2017 with the destruction of those products in the patent litigation against Leuchtstark Vertriebs GmbH. In other recent litigation against Klite's products, Seoul also obtained a permanent injunction, a recall of infringing products sold after October 2017 and destruction of those products. This follows two other cases in the USA, where Seoul obtained permanent injunctions against the sales of Philips branded LED TV products.
In separate patent litigation filed against Conrad Electric (one of Europe's largest electronics retailers), the court ordered a permanent injunction and a recall of infringing cell-phone products sold after October 2017 because they infringed Seoul's patent.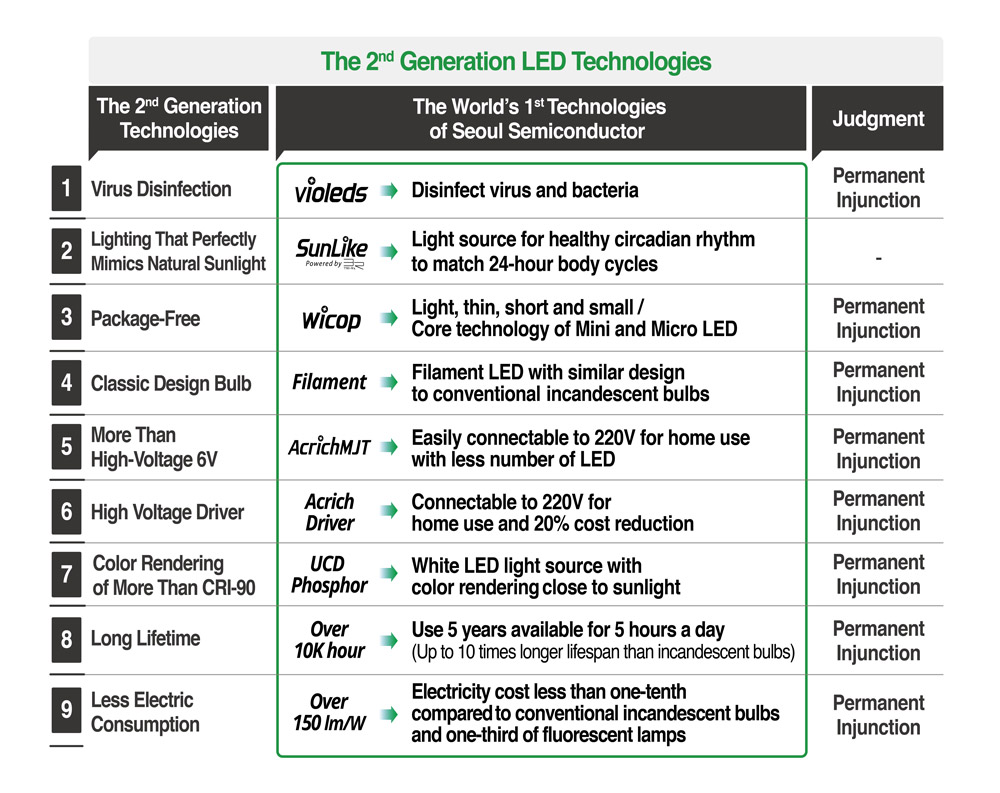 Picture: Seoul Semiconductor's second-generation LED technology.
Seoul says that, for the past three years, it has prevailed in about 30 patent litigations across the USA, UK, Germany, Japan, China and Korea. The table shows a list of Seoul's patented technology asserted in enforcement actions.
Seoul Semi obtains injunction in Germany against Leuchtstark
Seoul Semiconductor wins permanent injunction against Fry's selling Philips TV product
Seoul Semiconductor files patent lawsuit against second Philips TV display distributor
Tags: Seoul Semiconductor LEDs
Visit: www.SeoulSemicon.com