News: Microelectronics
19 October 2020
Toshiba shipping 1200V SiC MOSFET
Tokyo-based Toshiba Electronic Devices & Storage Corp (TDSC) - spun off from Toshiba Corp in July 2017 - has begun shipping the TW070J120B, a 1200V silicon carbide (SiC) MOSFET (available in a TO-3P(N) package) for industrial applications, including large-capacity power supplies.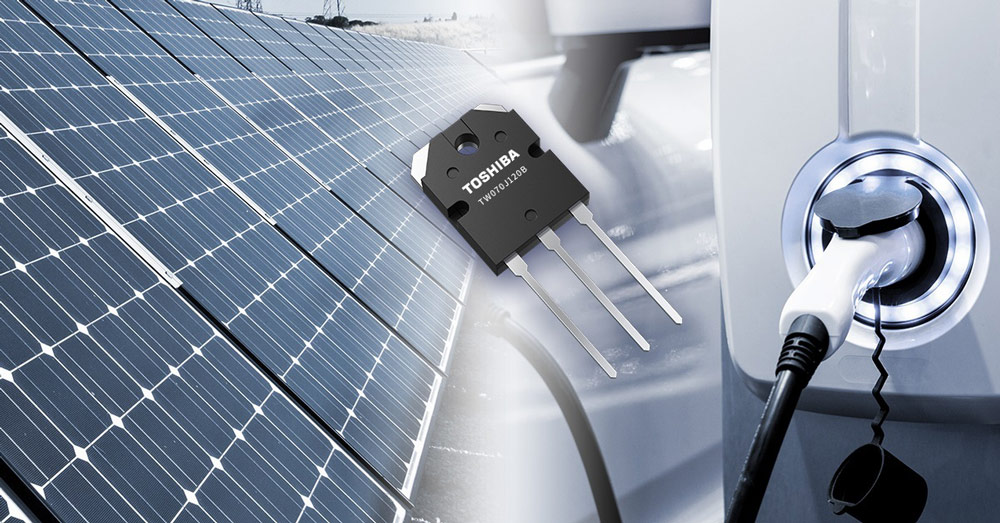 Picture: Toshiba's TW070J120B 1200V SiC MOSFET.
Compared with conventional silicon (Si) MOSFET and insulated-gate bipolar transistor (IGBT) devices, the new SiC power MOSFET achieves high voltage resistance, high switching speed and low drain-source on-resistance (RDS(ON)=70mΩ, typical), so it will contribute to lower power consumption and system downsizing, the firm says.
Fabricated with Toshiba's second-generation chip design, which includes a built-in SiC Schottky barrier diode (SBD) and improves the reliability of SiC MOSFETs, the new device realizes low input capacitance, a low gate-input charge, and low drain-to-source on-resistance. Compared with the Toshiba's GT40QR21 1200V silicon IGBT, it cuts turn-off switching loss by about 80% and switching time (fall time) by about 70%, while delivering low on-voltage characteristics with a drain current of 20A or less (at an ambient temperature of 25°C).
Gate threshold voltage is set in the high range of 4.2-5.8V, which reduces malfunction risk (unintended turn-on or -off). Incorporation of an SiC Schottky barrier diode with low forward voltage also helps to reduce power loss. As well as its high drain-source voltage (VDSS) of 1200V, features also include low input capacitance (Ciss=1680pF, typical), low total gate charge (Qg=67nC, typical), low diode forward voltage (VDSF=-1.35V, typical).
Toshiba says that the new MOSFET will contribute to higher efficiency by reducing power loss in industrial applications, such as large-capacity AC-DC converters, photovoltaic inverters, and large-capacity bidirectional DC-DC converters, and will also contribute to reduced equipment size.
Tags: Toshiba SiC power MOSFET
Visit: https://toshiba.semicon-storage.com